Autumn's Signature Beverage: The Pumpkin Spice Latte
On the 30th of September, I went to bed with a strange feeling in my stomach, accompanied by an unexpected appetite for spicy, caramel-y, warm foods. It felt as if something big was coming my way, as the long summer nights started getting shorter and shorter. The moment I woke up, on the 1st of October, I knew what had changed in the air (or at least in social medias), and I was such a fool for not anticipating it the night before. I braced myself for the bombardment of fallen red leaves, 'fall scented candles' and other of such 'fall' photos on my Instagram feed, as well as the autumn related video series on YouTube. And so it began, the mysterious hype over a season that many people around the world look forward to.
I, on the other hand, have no idea what this hype is about and why this season is so popular amongst, not only but especially, teenage girls. Taking photos of pumpkins, buying pumpkin scented things, making things out of pumpkins, crunching dried up leaves, getting ready for Halloween 30 days prior, and all of the other 'fall activities' simply made no sense to me. Maybe it was because I grew up in Hanoi, where the weather doesn't get cold until November and the pumpkins can only grow up to the size of my fist, that I could not enjoy these activities in the way that the rest of the Western world was enjoying it. Feeling left out from all the autumn activities that the internet was enjoying, my main source of fall updates is  to participate in this seasonal movement as well, starting off by warming my stomach with a flavor of fall (not that my stomach needs warming up, since it's still 30 degrees outside right now).
Behold, the Pumpkin Spice Latte!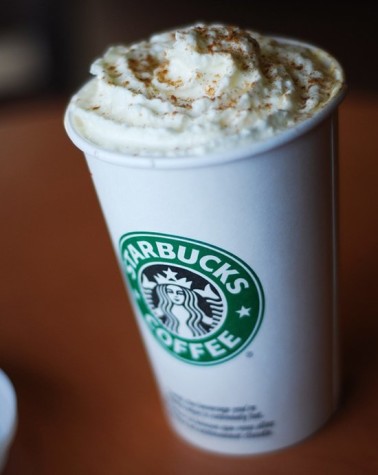 What you will need:
1 cup of milk
1 tablespoon of white sugar (or more, depending on your taste)
1 tablespoon of pumpkin puree (you can buy this premade or make it yourself, *recipe below)
1 teaspoon of pumpkin pie spice (includes: ¼ tsp. all spice, 1 ½ tsp. cinnamon, ¾ tsp. ginger, ¾ tsp. nutmeg. Mix these powder together)
½ teaspoon of vanilla extract
¼ cup of brewed espresso/coffee
*To make pumpkin puree:
Preheat oven to 200 degrees Celsius.
Take a pumpkin and split it in half from top to bottom. Scoop out the seeds and fiber with a spoon or an ice cream scooper.
Place the pumpkin halves, flesh faced up, on baking sheet/parchment paper to be placed on an oven pan. Insert pan in oven and roast until the wedges are tender enough for fork to poke into. This usually takes about 30-40 minutes.
Let the pumpkin cool for a bit, then, when it is still warm, remove the skin from the flesh/insides of the pumpkin.
Add pumpkin into food processor/mixer and blend until the puree is smooth. If the puree seems dry, add a few tablespoons of water or milk to smoothen it as you'd like.
Let's begin with the Pumpkin Spice Latte!
In a small saucepan over low heat, whisk ½ cup of milk, sugar, pumpkin puree, pumpkin pie spice and vanilla extract.
Simmer for 4 minutes.
Whisk in remaining milk for 30 seconds.
Remove saucepan from cooker and pour mixture through the sieve to filter out the pulp.
Return mixture to saucepan and simmer, whisking for 2 minutes.
Add espresso and whisk until foamy, about 1 minute.
Pour latte into cup, (optional) finish up with whip cream topping and sprinkle on a pinch of cinnamon for looks and better taste!
And that is it for our simple, delicious, and under 10 minutes made, Pumpkin Spice Latte. I hope this recipe helped you stay in touch with this season's many traditions and experience what autumn 'tastes' like, as this beverage is said to be the epitome of autumn in a cup! Let us hope I survive the month without going crazy with all these fall promotions and weird traditions! This autumn culture is far out of my limited understanding…
View Comments(1)