Cong Caphe
Another week has passed already! Have you been to Café RuNam yet? Traveling around Hanoi might sound funny when you have lived here for long time, but still, I feel it is worthwhile to discover new places.
This week I'm introducing Cong Caphe. There are 17 branches in Hanoi and I'm pretty sure that you've seen this cafe (or might have been here already) at least once passing by on the street. For those who have not been here yet, Cong Caphe is decorated with communist decors and Vietnam war trinkets. Depending on each branch there are usually several floors with plenty of seats.The interior consists of typical ceiling fans and the trade mark seems to be floral red cushion and old wooden war chests. The place has nice idiosyncratic atmosphere with their workers wearing army-like clothes. The crowd is mainly comprised of young and artsy Vietnamese academic types. Cong Caphe really is a perfect place to hangout an afternoon with friends. What I would recommend having here is their Coconut Coffee Shake. Coconut Coffee Shake is a mixture of coffee with condensed milk concoction and a scoop of coconut ice cream sitting on top. There are basic beverages to enjoy too. If you've got time this week, try out Cong Caphe!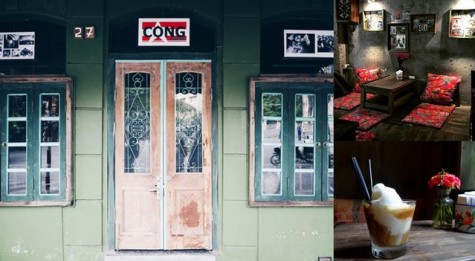 Here are the address of all Cong Caphe branches, visit the one near you!
Leave a Comment