CAFÉ RuNam
Hang on for a minute...we're trying to find some more stories you might like.
Which café is most favorable for you to go in Hanoi? While there are some common places that everyone knows, for example Joma, Starbucks, and Highlands, those places are convenient to go to but tedious since they always have similar atmospheres. To help those who shared my feelings,  I decided to go on a journey to find and solve this "unimportant but important" case. I will be introducing unique and fresh cafés in Hanoi in my weekly Café-Restaurant reviews.
This week I introduce to you CAFÉ RuNam. It is located near Hoàn Kiếm, Nhà Thờ. Café RuNam is own by Nguyen Quoc Khanh, the chairman of the AA Corporation (Vietnam's leading furniture and design contracting company) and his wife.The place is posh, luxurious, cozy and super relaxing. There are a couple tables set outside and plenty of seats within the café with air condition. On the 3rd floor, there's an additional small room as well. Aside from the environment, their foods, drinks and desserts are aesthetically pleasing to the eye and delicious as well! My coffee is served in a mug and sugar cubes are placed in an antique Chinese container. To suit with the coffee, a small shortbread biscuit is served on a doily. If you ever have the chance to go to CAFÉ RuNam, I recommend trying out their "Affogato", which is a scoop of milk ice-cream served with a shot of hot espresso topped with caramel sauce. There are also fresh fruit juices, ice creams, cocktails and refreshers. According to reviews from locals their foods are decent.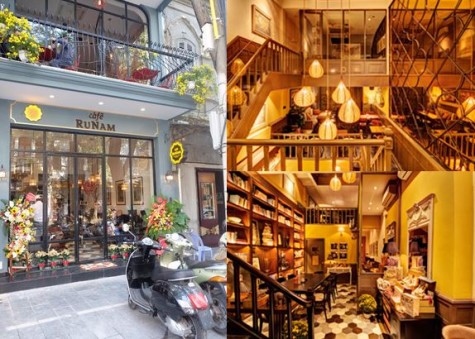 More about CAFÉ RuNam: