No breakfast? No excuse. Try this!
Are you a morning person? No? Don't worry, you're not alone. Busy schedules and the addition of little sleep equate to something unpleasant in our everyday lives. Therefore, it's likely that we would prefer to choose sleep over breakfast in the mornings. If you're a breakfast skipper I would assume you've been told countless of times about the importance of this meal. Well, I cannot deny that going to school on an empty stomach would probably not be a good idea.
With the "cold" weather supposedly approaching, a warm bowl of oats in the morning is the perfect comfort, yet healthy meal. Don't have time in the mornings? No, this excuse will no longer be a good one because this delicious recipe that I will share with you today literally takes 5 MINUTES to make and probably less to eat *winks*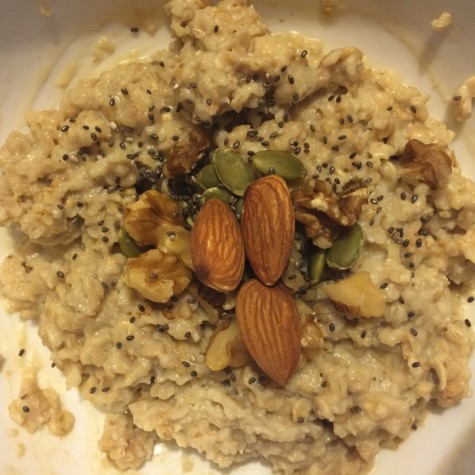 Photo by: Rosaria Battista
But first, here is a little bit of information for the benefits of this recipe:
Oatmeal is a wholegrain that is full of vitamins, fiber and minerals
Oatmeal is a protein carb-rich source which provides great energy to start the day (you need it!)
Peanut butter is a good source of protein and is a friendly fat food (it contains more unsaturated fats than saturated)
Cinnamon is a great source of antioxidants and also has anti-inflammatory properties
Chia seeds are also pact with fiber, omega-3 fatty acids, and minerals. It is also a decent source of protein. Chia seeds help keep us full for longer!
Fruit is loaded with vitamins
This recipe has become a staple breakfast for me because it's so easy to make, keeps me full for a long time and tastes so good! It's also great if you're a vegetarian or vegan.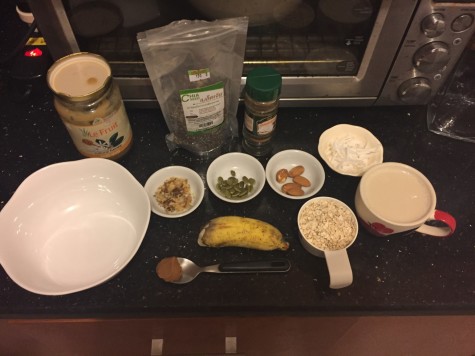 Ingredients:
½ cup of minute-ready oatmeal
1 cup soymilk (or any other liquid that you prefer such as milk)
1 tsp natural peanut butter
½ – 1 tsp of natural honey
1 tsp of chia seeds
1 tbsp chopped almonds
1 tbsp walnuts
1 tsp pumpkin seeds
Shredded coconut (optional)
1 tbsp pure cocoa powder (optional)
1/3 cup (or more) of any chopped fruit you prefer (I suggest bananas, apples, pears and or blueberries)
1 tsp cinnamon powder
Directions:
In a microwave-proof bowl, add oatmeal, soymilk and peanut butter
Microwave for 2 minutes
While the oats are cooking, wash, peel and cut the fruit you wish to add later (you could also do this the night before)
Once the oats are cooked, stir in the honey (you could add more honey, but I like to add bananas as they're already natural sweeteners for me)
If necessary, add a little more soymilk and stir the oatmeal
(Optional) stir in the pure cocoa powder
Add in the nuts and (optional) shredded coconut
Add the fruit
Sprinkle the chia seeds and cinnamon powder
Enjoy your breakfast!
Feel free to make any changes in this recipe according to your preferences and liking 🙂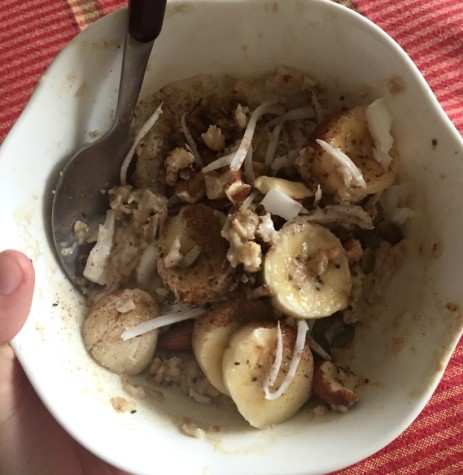 Sources:
Leave a Comment