Flashback: UNIS Choir and Orchestra Embark on a Double APAC Weekend
      On the weekend of the 13th to 17th of November, two groups of UNIS musicians, the UNIS Choir and the UNIS Orchestra, traveled abroad to take part in their respective APAC festivals.
      The APAC Choir festival was hosted by Hong Kong International School in Hong Kong, where our UNIS Choir embarked on two and a half days of grueling rehearsals that ended with a spectacular final concert. The first part of the final concert consisted of individual performances from each of the six schools that participated in the festival. In the second half of the show, all six of the schools united into a combined choir and performed six different pieces, conducted by Dr. Jo Michael Scheibe and accompanied by Ms. Joyce Law.  Even with a few technical difficulties (in the second half of the show), the final concert still proved to be successful and very rewarding for all of the choirs.
      I was very fortunate to be part of the APAC Choir festival myself, and to be surrounded with so much talent and dedication was definitely a humbling experience. I really enjoyed being part of a group with such a big appreciation for music, specifically song.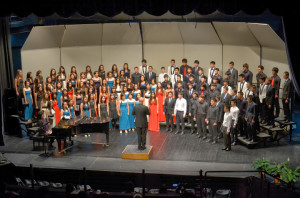 Meanwhile, our UNIS Orchestra traveled to Taejon Christian International School in Daejon, Korea, where APAC Orchestra was hosted. A remarkable finale concert also took place after two and a half days of tiring rehearsals. The concert was said to have gone smoothly for our fellow instrumentalists.
     "Being a part of APAC orchestra was definitely a highlight and it was just really great to be able to play in a big orchestra full of really talented players… The standard of playing was really high, so it was fun." Says Ye Rim Kim (9), a participant of APAC Orchestra.
     All in all, both musical groups had embarked on a musically memorable and successful trip.
Leave a Comment