Grease: From Broadway to UNIS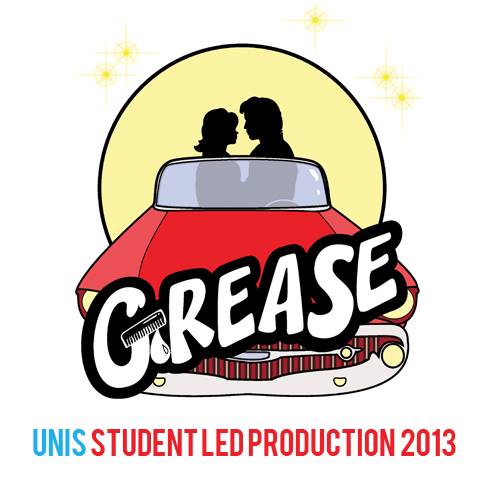 One of the most popular musicals of all time, Grease, is being brought to you by the class of 2014, and it's coming soon on November 29-30th.
The most talked about student-led musical preparations have begun. Students from middle school and high school all come together on Tuesdays, Thursdays and Saturdays to practice their lines and solos for Grease.
If you don't know what Grease is or you haven't watched the John Travolta film, it is about time that you do so.  Rumor has it that this will be the biggest musical of all time at UNIS. Of course, last year's Man of Steel and Hercules shows were both amazing, but is it possible for this year's students to top that? So far, the practices are going well and the choreography is being directed by the amazing Pixelated dance crew.
This musical is truly one of a kind. There is a certain pattern apparent when you step into the theatre during practices.
1-      The main cast crew is usually running around with their scripts and putting their soul into acting their part.
2-      The Pixelated team presents every dance move slowly, counting from 1 to 4, with the hope that everyone will follow…It is harder than you might think!
3-      The backstage helpers sit in front of a projection screen and learn the techniques of light and sound. It truly is more than pressing the on and off button; it is fascinating.
4-      The directors are organizing a team of over 40 people with just one microphone. It is true that sometimes it can be difficult, but there is always a way to get everyone's attention. Screaming with frustration is common.
5-      The teacher supervisors quietly reevaluate every decision made by the students in the corner of the theatre. They guide the main directors into the right direction.
6-      Make up and design leaders snap photos of the cast on their iPhones and measure every inch of every person to be perfect for the show.
7-      Marketing directors are following every actor's footsteps with a camera to record the upcoming teaser.
Creativity, music, film and dance all come together on the stage here at the arts center, preparing for this huge show. The first Grease performance was in 1971, so you can probably imagine how different high school was back then. This musical reflects the '70s old school nature of working-class teenagers struggling with heartaches and high school drama. This is definitely something different from 90210 or Gossip Girl.
Come and support your friends, or, just come and enjoy the show because it is going to be amazing. If you want to know more, watch out for the first promo coming soon!
View Comments (1)