News from around the World
Hang on for a minute...we're trying to find some more stories you might like.
Once again, news from around the world are gathered and presented. The Flame hopes that students can again learn something new about their world, or be reminded of the many things, wonderful or atrocious, that you may have forgotten. – Viet Than, Chief. Editor.
Japan and the Summer Olympics
September 8, 2013. , Tokyo awakened to learn that across the Pacific in Buenos Aires, Argentina, the International Olympic Committee (IOC) has chosen Japan to be the host for the Summer Olympics in 2020. With Prime Minister Shinzo Abe making the last pitch before the IOC votes, Japan dominated the other two bids, Istanbul of Turkey and Madrid of Spain. For both Round 1 and Round 2 of the voting session, Japan tops the board with 42/94 and 60/94 votes.
Already, the Japanese government is estimating a $10 billion budget for the hosting of the Olympics, including renovating the National Olympic Stadium in Tokyo, the same one that was the main stadium for the 1964 Summer Olympics.
Although many in Japan are hopeful that the event will stimulate a boost to its economy, one that has a public debt that doubled it. Many also point out that the money could be better spent in containing the Fukushima disaster that is only 115 miles away from Tokyo, one that is slowly running out of control. The rebuilding of the Tohoku region after the 2011 earthquake is another issue that should be dealt with. There has only been 448 homes built by the government so far to accommodate 215000 survivors, with almost all of them are still living in temporary housings since 2011.
Nevertheless, the country's populace is very excited for the Games.
Protests: Egypt and Turkey
In other parts of the world, unrest is still going on. Hopefully, many students will know of the July Egyptian Coup d'état led by Chief General Abdul Fatah al-Sisi against President Mohamed Morsi. Although it was a bloodless coup d'état with a new interim president elected, unrest has been provoked yet again, this time between pro-Morsi protesters and the army. The single most dramatic event that had happened since then in Egypt would be the August 2013 Egyptian Raids on pro-Morsi sit-ins. It was so So terrible that it got its own Wikipedia page with listed responses to it from many states (including Vietnam). Between the official death toll of 638 and the unofficial death toll of at least 2600, this raid has been condemned by many, and also evidence that peace in Egypt is a long way coming.
In Turkey, what had only been a protest against the demolition of a park, had escalated since May 28 when Turkish police had  increasingly violent crackdowns on protesters. Although the protest was relatively peaceful during August, tensions have flared again after numerous police brutality claims and the death of another protestor, Ahmed Atakan, on September 9. The protesters claimed that he was hit in the head by a tear gas canister (there have been sightings of Turkish police force firing tear gas canisters horizontal to the ground), but the government claims that Ahmed died from falling off a building while throwing stones at police.
Russia and US on Syria
On September 11, 2013, Vladimir Putin, current President of Russia, wrote an opinion piece that was published on The New York Times. In it, he "pleas for caution" from the US when it comes to matter of Syria, hoping that the Obama administration wouldn't make the same "mistakes" as they did in Iraq. Three days later, the New York Times and many other news outlets ran articles on how the US and Russia has come to a deal over Syria and its chemical weapons, choosing to inspect and demand the chemical weapons currently in the hands of the Syrian government to be handed over to the UN by the end of June, 2014 first half. This marks the first time, since clashes began in March 2011, that the US and Russia has come to an agreement. However, this deal doesn't mean the war is ending any time soon, it just means more efforts are being made so the war won't have chemical weapons on the battlefield
LGBT and Russia
On January 25, 2013, anchor Anton Krasovsky of Russian Kontr TV came out on air of his homosexuality during a discussion on a proposed national ban on "Homosexual propaganda" in the Russian Duma. On August 18, during an interview with snob.ru, Anton revealed that after the show, he had been fired, with his corporative accounts blocked, deleted his face from the website, all of the TV shows "as if I'd never existed". The Huffington Post says that the footage of his announcement had also been deleted on the channel's YouTube page.
In between, in June, President Vladimir Putin signed that same law into effect across the nation. The law fines people who spread propaganda to children about the ambiguous term of "non-traditional sexual relations". This loose wording makes it impossible for any kind of LGBT rights events. Not that it matters in Moscow as the capital had forbid any "gay pride" events till 2112.
ILGA – Europe, a LGBT watchdog, listed Russia as the worst country in Europe when it comes to LGBT rights, with same-sex marriages still illegal, military conscripts are "advised" not to come out, and that was even before the law came into effect.
In response, many people spoke out against the law and also prompting a rally to boycott the Soichi Winter Olympics due to happen in 2014. President Barack Obama also in response had a visit with LGBT activists in St. Petersburg while having the G20 conference.
In Other News
Starbucks wi-fi more secure than Pentagon network, US defence official says.
Texas man's 'beer gut' turns food into alcohol due to rare auto-brewery syndrome
China just bought 5% of Ukraine(might be a bit misleading)
Japanese Government releases 90-page study on the history of robot anime

About the Writer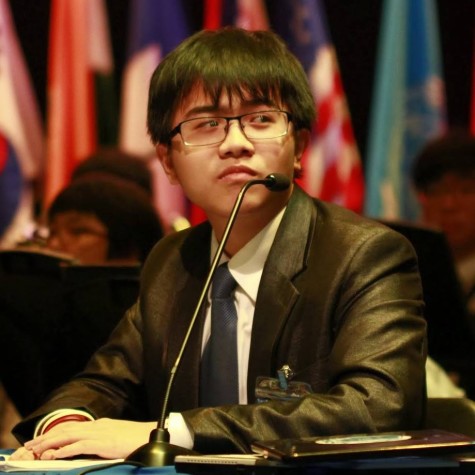 Viet Than, Chief Editor
Viet Than is a 9-year veteran of UNIS currently in his senior year. As the Chief Editor, the Flame sucked him away from times for fantasy/sci-fi books and...