The Cleaning Ladies: Our Unsung Heroes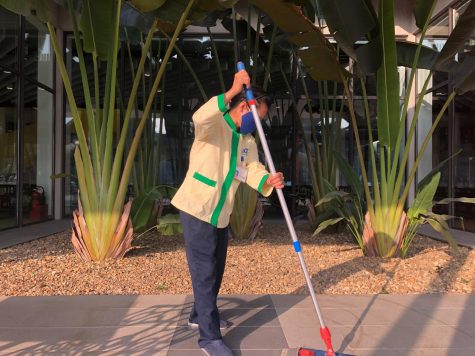 Day in and day out, the cleaning ladies at UNIS work hard to maintain the school and make sure that we can learn in a clean and safe environment. Although they are some of the most hardworking members of our community, there is little interaction between the maintenance staff and the student body.
There are two groups of janitorial staff at UNIS. The school directly employs the ladies who wear a blue uniform, while the ladies who wear a yellow uniform are employed by ICT, a building service contractor. The two groups are under separate contracts and salaries, however they work together on campus. 
The ICT ladies work from 7:40am to 5pm, Monday through Saturday. They are taken to school by ICT's bus service.
Đỗ Thị Hoa started working at UNIS 2 years ago and is stationed in the ECC building. Her breaks are dependent on when students have their lunch. On some days she eats at 10:30, while on others she eats at 11. The schedules of the other cleaning ladies are similar, as they are determined by students' lunch times. 
There are mixed answers when it comes to their break times. Some ladies revealed that there is no designated space for them to go to, while others are allowed to use the faculty lounge in B8b. Further, the ladies say that in a workday, they only have an hour of break during lunch time. Despite this, their duty never stops. Whenever there is a mess that is made, they feel that they always have the responsibility to handle it. 
The UNIS-employed ladies work from Monday to Friday. Some come as early as 6am, such as the ladies who do laundry in the Sports Center. Most of the time, they all maintain an 8-hour work day from 7:30am to 4:00pm. However, if there are after school activities or meetings, it is up to the UNIS staff to stay until the event is over. This makes it important for the student body and staff to clean up after themselves to reduce the workload of the cleaning ladies, especially after school when they are often working overtime.
A closer look into their personal lives sheds light into their hobbies outside of work. "I make rice wine on Sundays because that's when I get the whole day off," said Đỗ Thị Phú. Nguyễn Thị Nga lives in Sóc Sơn, a district 25 km north of downtown Hà Nội. She has kids, grandchildren, and even great grandchildren. In her free time she likes to work in her garden. 
One of the longest-working staff members is Vũ Thị Duyệt, who was directly employed by UNIS 19 years ago. She worked at the Vạn Phúc campus for 2 years before coming to the new Ciputra campus. "I am actually not the longest-working member here. Some ladies have worked for 25 years. Some of the guards have worked here for 30 years," said Vũ.
The ladies all openly-expressed their appreciation for the school. "I've worked here for two years and I find that the teachers, everyday we build a connection with them and they are very kind. I feel appreciated," said Đỗ Thị Hoa. 
When the topic of salary came up during the interviews, all of the ladies shared an awkward laugh before revealing their wishes for a higher wage. They realize that it may not be possible because most janitorial staff in Hà Nội have similar pay, but it appears that the monthly salary cuts it quite close for some. In addition, the ICT ladies are paid day-by-day, so any absences are subtracted from their salary. Though they receive a higher wage than those employed by ICT, the UNIS-employed staff share the same sentiment. 
ICT is an independent contractor, therefore it would be difficult to alter the wages that they offer to their workers. As for the UNIS staff, it would be difficult to increase their pay without also increasing the salary of the ICT ladies. It is unfortunate, as the cleaning ladies are some of the hardest-working members, yet also the most underpaid. As students we are left with a responsibility to consider the impacts of our actions and make UNIS a better working environment in order to show our appreciation and respect.
A "Xin chào," or "Cảm ơn" can go a long way. When students and faculty reach out, "It is very touching," expressed Đỗ Thị Phú. Although the cleaning staff may not be able to communicate in the same language, smiles or greetings can contribute positively to their day.
Leave a Comment