Jane McGee: A Convenient Crossing
Hang on for a minute...we're trying to find some more stories you might like.
The light turned red. Mentally burdened by the stacks of paperwork required for her first teaching stint in New Zealand, Jane McGee crossed the street on her way to meet a friend for lunch. One of the waiting cars began to honk persistently, and she turned to see the Ontario teacher placement officer.
"Jane, Jane–get in the car," McGee recalls him saying. "There's a job in Rome and they need a teacher!"
A week and phone interview later, McGee found herself on a plane to Italy. "I didn't really know what I was getting myself into," she said. "But it was just exciting to be there."
This was McGee's first overseas posting, and it wasn't always easy. She missed home, especially when she had to stay in Europe while her family celebrated birthdays or Christmas.
McGee said the homesickness was alleviated by a host of new opportunities. "I was meeting new people, I was learning how to speak Italian, teaching for the first time…it was invigorating and exciting."
Her love for working abroad didn't dissipate over time. After returning to Canada to complete her master's, McGee taught in Egypt, followed by postings in Thailand, Poland, India, and Laos. Her roles ranged from the chair of the mathematics department to IB coordinator, from high school principal to school deputy head; this journey has culminated in the position of UNIS Hanoi's Head of School.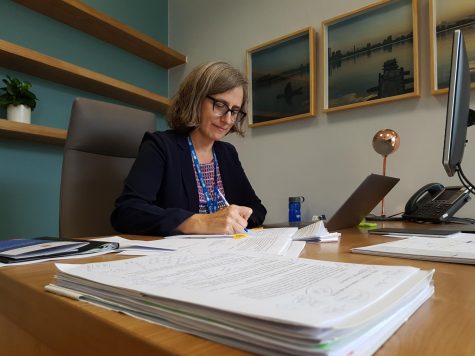 McGee has been living outside of Canada since she was twenty-two, which gives her a sense of alienation whenever she returns to visit.
"There's times when I talk to friends when I go back," she said, "and I realise I don't have a deep understanding of what it's like to be an adult in Canada." On occasion, she will think about making a judgement on local issues, like Canadian politics, before finding that she lacks the cultural knowledge to do so.
McGee said, "I'll listen to my sisters and I'll just be like, 'Wow, I can't even imagine being you.' And then I'll realise, 'You have no idea what it's like to be me, either.' We grew up in the same house, with the same values, but [my sister has] been in the same house in the same location for twenty-five years."
McGee finds it hard to share her experiences with those who have lived in the same place for their entire lives. She said, "When you talk about Hanoi, they have no understanding of what it's like to wind through the streets here, to sit down on a stool and have a cup of tea–it's really difficult to try to have that connection."
"When you're overseas," McGee added, "you're comfortable with being uncomfortable. You're comfortable not knowing everything around you. And then when you hear and see everything and you can understand it all, it just feels strange."
Despite these occasional feelings of cultural separation, McGee finds her work incredibly rewarding, whether in reimagining Vientiane International School's vision statement, or in implementing a reworked schedule for students in Mumbai.
"There's magic and power when you're working with a good team of people," she said. "You leave the room incredibly energised to take that idea forward."
She is already enjoying her time at UNIS. "There's so much good energy in that room," McGee said, referring to the faculty meetings that aim to prepare for the school's impending accreditation process. "I wish I could just bottle it. Everyone is talking about students, and learning, and making the school a better place for kids, and having fun while they're doing it. They're on fire."
McGee's journey to this point has been led by a willingness to have no regrets. "There's so many choices you make," McGee said. "If you had made a different one, it wouldn't have been the wrong one. It just would have been a different one."