Nayomaze Performs Opera House Concert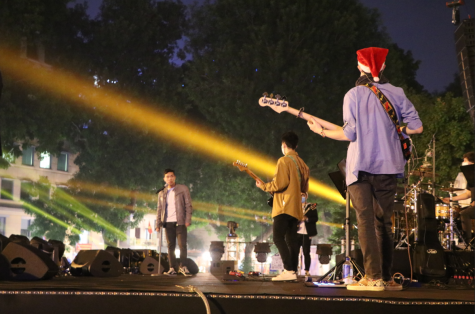 The student band Nayomaze ended the year with a bang at the Hanoi Retro & Rap Concert in front of the Hanoi Opera House attracting thousands to the crowd where they performed to celebrate Christmas Eve. 
Nayomaze has been practicing throughout the year, including participating in HS Assembly performances and song recordings. The results of the band's hard work were apparent at the performance. 
"It was intoxicating," said Bao Chau Nguyen, the lead singer and founder of the band. "The feeling of being on a huge stage with thousands of people in front of you and being blinded by the spotlight is absolutely breathtaking."
For many, it might come as a surprise that the band only had a few days to prepare for their performance. "We had about four days in total to prepare for the show as it was quite last minute," said Huy Nguyen, the band's guitarist. Considering their last-minute performance, it really was a dream come true as they rocked along on Christmas Eve. 
Their seamless performance was indeed rewarding. "It was a dream come true basically as we've all wanted to play in front of so many people." said Bao Chau Nguyen. 
After their successful debut in a large-scale performance, they plan on continuing their journey while spreading their passion for their music. The band plans to keep writing and playing as they seek out places to share their music. "We just recorded our EP (Extended Play) and will soon make that available for people to listen to," said Bao Chau Nguyen. "Our next big concert on a similar scale will be on Lunar New Year's Eve (the night of February 11th)." The band's work also includes preparations for their upcoming debut for a new single called "Shy."
While the band originally planned to perform again on February 11, this was cancelled due to COVID-19. The band is not yet certain whether or not outdoor performance opportunities will be possible later in the year, but regardless of the situation they will undoubtedly continue to spread their passion for music throughout UNIS and around Hanoi as a whole. 
Leave a Comment