Robotics Kickoff
UNIS hosts its first ever Robotics Kickoff event with the middle school CAS groups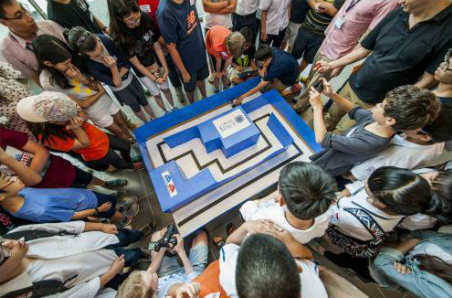 The Robotics Kickoff took place last week on 16th of May at UNIS. The high school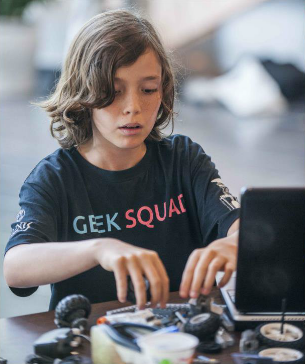 service learning group Tech for All and the middle school Geeksquad collaborated in putting the whole together, in order to give students all over Hanoi an opportunity to learn how to build and code robots. Sixty students and teachers from ten different schools came to take part in the event.
The students were put into groups of 2 to 4, and they were instructed to build a moving robot. It was great to see students who had more experience with the robots helping others. In total there were 18 groups and all of them were successful in  creating a moving robot. In addition they had to learn how to code and add functions to give it a wider range of capabilities,Tech for All and Geeksquad held 15 minute workshop sessions to prepare the students for the competition. In the workshop sessions the students were helped with coding, using gears, and using the touch and light sensors.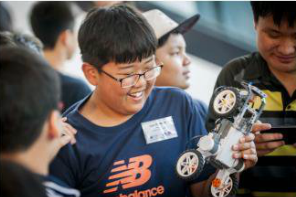 FTP Robotics demonstrated their more advanced robot to the students and to show the limitless potential robots have. Next came the time everyone was waiting for – the competition. The students had a choice to participate in either the race, the maze or the sumo wrestling competitions and they were divided up into small groups accordingly. Although the race was considered to be an easy event, the students needed to have a good understanding of how the gears worked. In the race the students had to build a light, fast, and sturdy robot to finish first in the race. For the maze the the students had to build a robot that used the touch sensors and/or the light sensors to find its way out as quickly as possible. And for the sumo wrestling the students had to build a robot that was heavy and strong.The goal was to push the opponent's robot off the ring. It was considered to be the hardest competition because the students needed to have a good understanding of the aspects taught in the workshop sessions.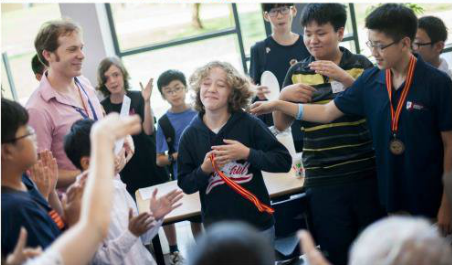 In honor of the groups that came in first, second, and third,  gold, silver and bronze medals were awared respectively for each event. Overall it was a very fun and exciting event. It was amazing seeing how the kids from different school worked together to build a robot. All the students who came surely enhanced their knowledge of robots. Although it might have been very stressful for the students to build a robot in a limited time, it was nice seeing them all cooperate to solve the problem together. The event was successful and UNIS is looking forward to hosting more robotic events in the future.
Leave a Comment