Talent Show Winners: Anh Duy and My Anh Truong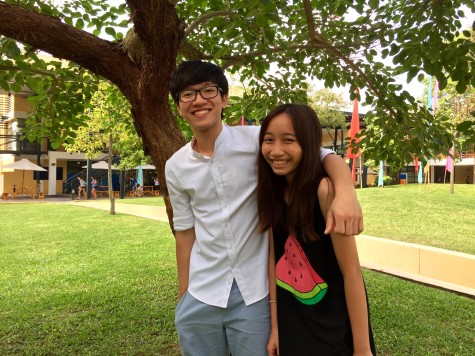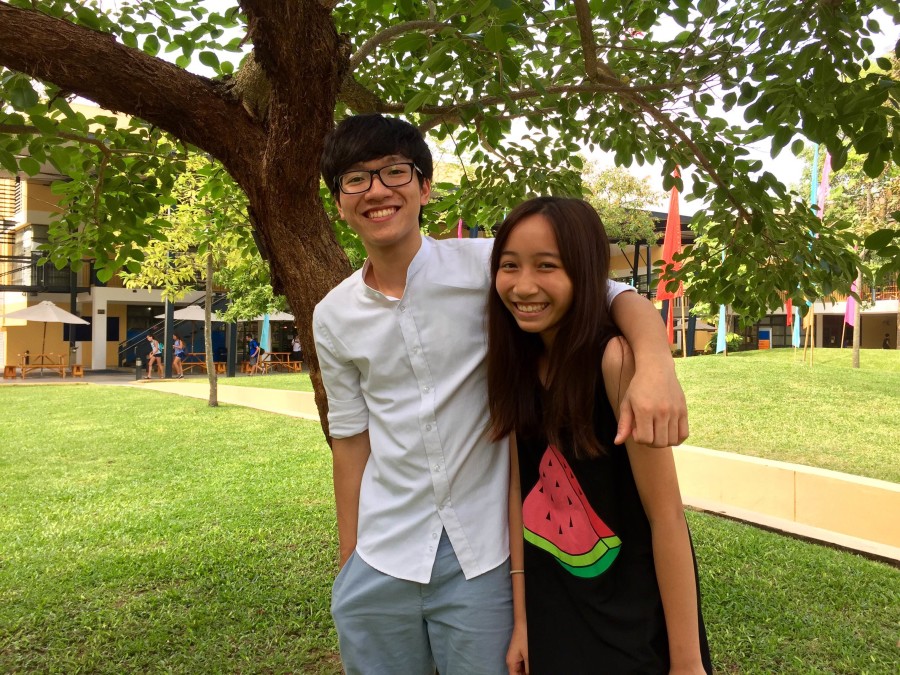 Every year, the high school Senate hosts a Talent Show, which gathers all the fearless talents of the UNIS student body onto one stage, to perform in front of three critical judges and hundreds of people in the audience.
The third annual Talent Show was held in the auditorium, on November 13, where there was a huge turnout of people, and all the seats were completely filled up! This year, the Senate also decided to let the audience vote via text messaging, so that the true winner would win fair and square. Even so, it was hard to select only one act from amongst 17 different performers, and whilst counting up the votes (as I was part of the Events Committee), there was a definite spread of votes between each act, which showed just how incredible each act was!
In the end, it was clear who the winner would be, as they won one fourth of all the votes submitted! Their amazing and soulful performance of "Like I'm Gonna Lose You" by Meghan Trainor ft. John Legend took all of our breath away, and they continued this trend from their performance from last year's Talent Show. Once again, the sibling duo Anh Duy and My Anh Truong won first place! Anh Duy is an 11th grader in high school and My Anh is in 8th grader in middle school.
From their continuous trend of winning the Talent Show since the past year, I think it is likely that they could be building up a potential fan base here in UNIS. I arranged a meeting with these talented vocals (and a pianist), Anh Duy and My Anh to ask them a few questions about being known as one of the most talented siblings on campus. Duy was more opened to answering questions, whilst My Anh was adorably shy.
How long have you been singing and/or performing?
Duy: I've been performing since grade 7, I think. Yeah, I did my first dance performance in 7th grade. And as for singing, this year's Talent Show was actually my first time singing in public. I actually took time attending singing practices.
My Anh: I don't really remember when I started singing or performing, but it was since I was very young.
Do you take singing or vocal lessons?
Duy: Yeah, I do. But I've only started this year, taking lessons every Wednesday. I've only started to take interest in singing this year.
My Anh: No… (giggling)
Interestingly that your voice is so amazing! What inspires you to sing? (hobby, family, ambition…)
Duy: I think it's all of them… My parents wants me to be the best I can be, and also it is my own passion to sing. It feels good.
My Anh: I'm just really passionate about singing. It's hard to put into words, really.
Your parents are well-known performing artists. Would you consider your talents a gift or an expectation you have to live up to because of that?
Duy: I guess it's both. Having both parents being able to exceed in their fields, I feel like it is my expectation to live up to their standards, or maybe better, because in the Vietnamese culture, they say something like: the child should always be better than the parents. (Laughing) But I'm not sure I can live up to that yet.
My Anh: Well, I've never really thought about it, and it has never really affected me…
Have you ever considered a future in performance arts? If not, what do you want to be when you grow up?
My Anh: I really want to be a song-writer or producer.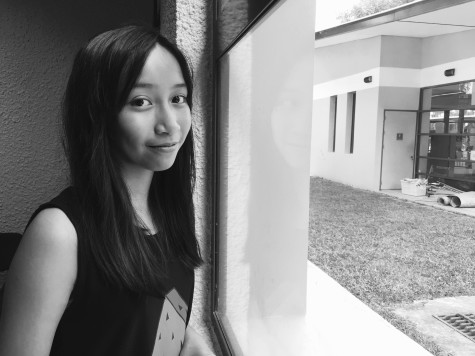 And what about singing?
My Anh: I'm not sure about singing, but I really like what my dad does, he's a producer.
Duy: For me, it's what my mom does, actually. I really enjoy being on stage, and the overwhelming emotions I get before and while on stage. It's a nice kind of adrenaline. I also appreciate the audience and like interacting with them. That's what I want to do in the future.
How long have you been in the Talent Show?
Duy: Hmm… when was it? I think it was grade 8, or grade 9. We were performing as Pixelated, the dance group. And with my sister, we only started singing last year, we performed "If I Ain't Got You", by Alicia Keys.
My Anh: For me it was last year.
And what do you think of the show and the performances this year?
Duy: I think the performances were a lot more improved and many were very interesting. I think the show was really better, overall. Plus, I really loved the judges this year; their comments were really thought-through and constructive— they really tried and helped to improve the performances.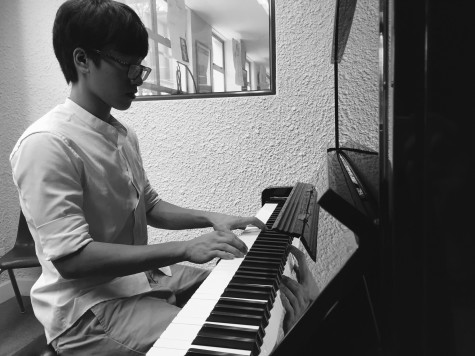 Duy, will you still pursue dancing? Can the fans hope for a Pixelated comeback any time soon?
Duy: Of course! Originally, Pixelated along with other dance groups in UNIS, if you remember the ex-senior groups like Ayaka, our goal was to bring APAC dance to UNIS, but the idea was kind of too far-fetched and unreachable. However, now we still dance for our passion and to entertain the school. This year, I think we will have one more performance, we're not sure when yet.
My Anh, any tips for singing?
Duy: she doesn't really take any lessons (laughing)! The talent's just there, she doesn't even have to take care of it!
My Anh: (smiles).
How do you fight nervousness or ease stage fright? Because from the audience's point of view, you guys always look so natural and composed!
Duy: Yeah, I get stage fright a lot!
My Anh: I also get really scared, but I just like, take deep breaths.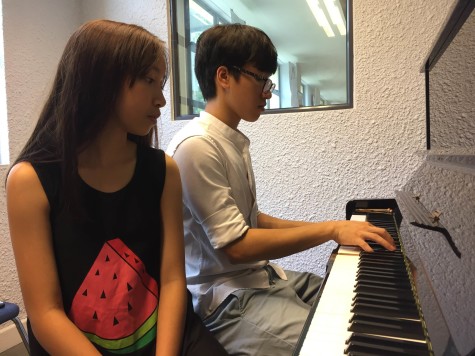 But you guys don't show it, so it looks like you guys really have it under control!
Duy: For me, before performances, I usually get myself alone and prefer to be alone. I don't think a lot of people know this, even my dance partners PZ and Minh wouldn't, because I wouldn't tell them. I'd just go to a corner and take deep breaths, because I was so scared! But once I get on stage, it kind of disappears… and I also do jumping jacks!
Haha, cool! Ok, so random question: what are you favorite subjects in school?
My Anh: … P.E… (laughs)
Duy: Hmm… the two most interesting courses I'm taking are Business management, taught by Mr. Stroupe, who is also one of the judges, and Film, with Mr. Garland.
Interesting… would you pursue these courses in the future?
Duy: Business management, well, I think it's what I would see myself doing in the future, or something along the lines. I think I will interconnect these two, music and business, because I want to make a brand for myself, like a music brand, so that will require a lot of business management skills. I'm not sure about film, though…
Do you have any final remarks? What do you want to say to your fans?!
Duy: I'm not sure I have any…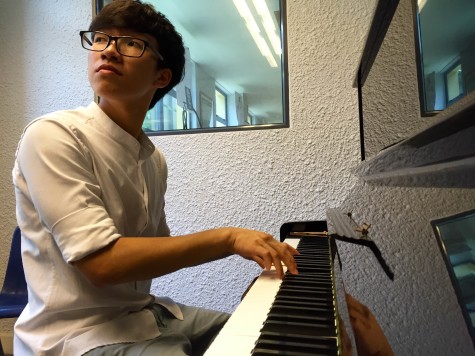 I'm sure you guys do!
Duy: If they exist, I would like to say, thank you for appreciating and supporting what I do and my passions! And just, wait for our next performances, we won't let you down!
And when will that be?
Uhm… as soon as possible!
Leave a Comment