Behind the Scenes of the Ultimate Gatsby Night
Prom Committee Successfully Organizes End-of-Year Dance
Saturday the 26th of May was one of the most memorable milestones of the year. If you are still wondering why, the answer is quite simple–the prom! This year's prom took place at The Sheraton Hanoi Hotel with more than one hundred well-dressed attendees. Lots of gold, glitter, and feathers were displayed in the ballroom, mimicking the extravagant party scenes from The Great Gatsby. However, the work that goes on behind the scenes to make this event so successful is often underappreciated. Since the beginning of April, the Prom Committee has been contributing their time and effort to make this ultimate Gatsby night happen.
The Prom Committee had two main subcommittees: the Decorations Committee and the Publicity Committee. The Publicity Committee was responsible for advertising and entertainment for the prom. This included creating posters or countdown images to be displayed on social media and making announcements through promotional videos. Two such promotional videos, "Ako at si Michael" and "Ako at si Mikaela," became the talk of the school. Many students knew about these two videos because they were presented during the high school assembly. By casting teachers as the main characters, having a plot twist at the end of each film, and using a ridiculous 80's power ballad, "Ako at Si Michael" ("Me and Michael") by True Faith, in the background, the film attracted many students' and teachers' attention.
The role of the Decorations Committee was to design props and decorations to help set the festive atmosphere. All members strived to create outstanding decorations for the entrance, walls, photo booth, tables, and stage within the given budget and space. The most challenging part for them was to make sure that everything matched the theme, "The Great Gatsby – Roaring Twenties".
"It was an interesting theme, although our Decorations Committee seemed to struggle slightly with the limited color choices like gold and black," said Grade 11 student Kevin Gibney, a member of the publicity team. It was indeed a huge challenge for the decorations team to recreate the exuberant 1920s time period. Despite these difficulties, the outcome of their work was astonishing. In particular, the gold and silver spray-painted champagne bottles, garlands, and photo booth props really gave the ballroom a vintage touch.
Overall, the spirit of The Roaring Twenties came alive on this particular Saturday night thanks to the efforts of the Prom Committee. It was a successful Gatsby prom and a good final hurrah for the senior class after their graduation.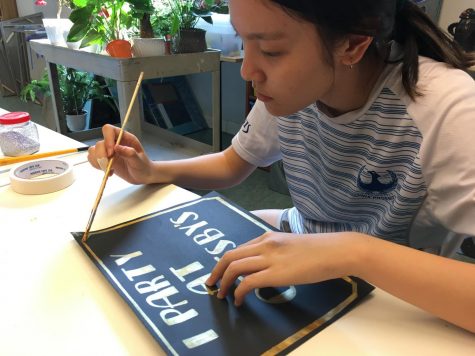 Leave a Comment