Book Review: The Truth About Forever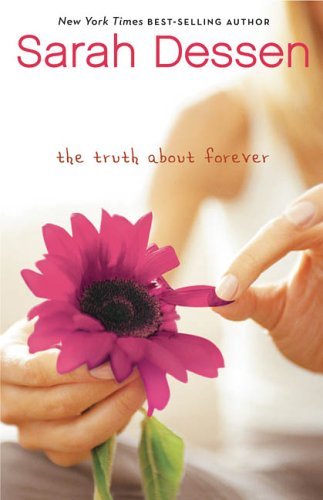 The Truth About Forever, written by Sarah Dessen is a contemporary novel about the idea
of being perfect and doing things perfectly. Our main protagonist, Macy is obsessed with
perfection and tries to control every aspect of her life from her studies and her summer job to
her appearance and behavior around others. She spends her mornings cleaning her room, her
days sitting at the library information desk and her evenings studying SAT vocabulary. This is
how our 'perfect' Macy is spending her summer.
However, as we learn more about Macy, we realize that her life is anything but perfect. Macy
is still recovering from the sudden death of her father and as a result, she deals with her grief
and her fear of losing someone by narrowing her life to academics and her job. Her relationship
with her mother is very complicated as both of them are quite introvert and they have hardly
shared their feelings to each other since her father's death.
Macy's life turns upside-down when she lands herself a new job at Wish Catering where no one
is trying to be perfect and everything is a chaos. Surprisingly, it is in this chaos that Macy finally
realizes that in trying to attain perfection, she has stopped enjoying and living her life. You
might think that all the problems in Macy's life is coming to an end and our heroine has finally
found happiness in chaos, however, when her perfect world collides with her chaotic world, she
must finally embrace one over the other. If you want to know which one she chooses, then you
must definitely read the book.
At the surface of this book might appear a story about a young teenage girl who is spending her
summer perfecting her life and detaching herself from everything that might possibly hurt her
but a deeper look into this novel reveals Macy's inner struggles and conflicts in accepting her
father's death and moving on with her life. There are many times when we can parallel our own
lives with some of the characters in this novel and that's makes this book memorable.
The Truth About Forever conveys how one can find perfection and happiness in the midst of
chaos. We are always striving to be perfect and be the best in everything that we often forget
that it is our imperfections that make us real and human. We are so busy living in the future
that we forget to live in the moment and truly, enjoy our lives. It isn't until Macy meets the
Wish crew that she truly realizes what she is missing out in life.
The Truth About Forever is filled with suspense, drama, romance, captivating dialogues, and
most importantly, relatable characters. Macy is smart, hardworking, and talented but it is her
strength and her vulnerability that makes her admirable as a character.
I truly loved reading this book and I strongly recommend you to borrow this book and I really
hope you enjoy reading it as much as I did.
You can also check the availability of this book in our library by clicking on the following link
If you enjoyed The Truth About Forever, then I recommend you to read some
wonderful other similar books written by Sarah Dessen such as This Lullaby, Lock and Key, Just Listen,
What Happened To Goodbye and many more!
Happy Reading!
Leave a Comment