NBA 2015 Off-Season
Hang on for a minute...we're trying to find some more stories you might like.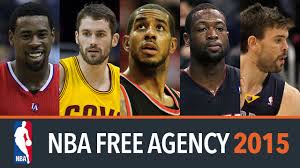 The NBA offseason is probably the longest 136 days that every NBA fan, including myself, has to endure every year. Luckily for us, we have the free agency period to partially quench our seemingly never ending thirst for NBA basketball. Most of the off-season free agency periods in recent years have been far from boring, and this year has been no exception with the routine financial roster moves made by each organization to improve their team and franchise.  Here are the highlights so far from the 2014-2015 NBA offseason
Deandre Jordan Saga
I think almost every NBA player and fan would agree that following the Deandre Jordan free agency saga was probably the high point of their summer. After agreeing to sign with the Dallas Mavericks, based right next to Houston, his hometown, the NBA world knew that his departure from Los Angeles was almost 100% certain. The LA Clippers' squad however, had  very different estimates with regards to Deandre Jordan's departure. After Doc Rivers' youngest son received a Snapchat from the 6'11 center with a caption stating that he needed to speak to his dad, the unofficial Deandre Jordan recruitment led by the Los Angeles Clippers lineup was in full swing. The squad managed to persuade Jordan to ignore all of Mark Cuban's, owner of the Mavericks, and get Jordan locked up in his L.A home as he and Rivers spent countless hours coming to an agreement in terms of a new contract. By far the funniest part of the saga was the emoji battle that ensued almost instantaneously after word had spread of Jordan signing a new contract with the Los Angeles clippers.
Lamarcus Aldridge to San Antonio
Throughout the 2014-15 NBA season, there was a lot of speculation on deteriorating morale between Aldridge and the Trailblazers' other franchise cornerstone, Damian Lillard.  It came with little surprise when Lamarcus Aldridge announced that he would not be renewing his contract with the Portland Trailblazers. After spending more than half of the offseason in meetings listening to sales pitches made by several NBA front offices and GM's, Aldridge had his list cut down to 2 teams, The Phoenix Suns and The San Antonio Spurs. Surprisingly enough, it was a former teammate's antics that swayed Aldridge to his final decision in choosing the San Antonio Spurs as his next NBA home. Ime Udoka, Spurs assistant and former teammate of Lamarcus Aldridge went all out to make sure he signed a contract with San Antonio by flying Aldridge out almost halfway across the country to deliver an apparently very good sales pitch from the San Antonio Spurs front office. You can read the dialogue here taken from an interview with Aldridge.