Everything Everywhere All At Once
Everything Everywhere All at Once, directed by Daniel Kwan and Daniel Scheinert, has received tremendous attention this awards season. It was the highest-rated movie on Letterboxd this year, but soon received backlash for being overrated. This controversy sparks the question: does this movie deserve the overwhelming praise it has received?
The movie follows Evelyn Wang (Michelle Yeoh), a Chinese laundromat owner, on a thrilling journey through the multiverse. She is accompanied by her family, including her husband, Waymond Wang (Ke Huy Quan), and her daughter, Joy Wang (Stephanie Hsu). All actors received praise, and most notably, Michelle Yeoh received a Golden Globe for Best Actress and a nomination for Best Actress at the Oscars.
Yeoh's incredible acting in both emotional and action-filled scenes help the audience feel Evelyn's turmoil as she faces family conflicts and fights off multiversal threats. Ke Huy Quan and Stephanie Hsu also gave heartwarming, convincing, and solid performances that are, in my opinion, deserving of the Oscar nominations they received.
Ke Huy Quan plays Waymond, a very lovable and funny character, providing comic relief from the heavy themes in the movie. I particularly enjoyed how his performance and brilliant emotional monologues work harmoniously with Michelle Yeoh's performance. Many critics believe he had the best performance, attesting to why he is sweeping all the awards for best-supporting actor.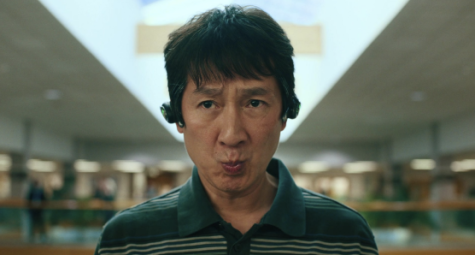 Although Ke Huy Quan's performance has been praised for being the heart of the movie, I think Stephanie Hsu's heartbreaking performance deserves recognition, too. In particular, Joy's relationship with her mother, Evelyn, is portrayed realistically despite the surreal and unrealistic context of the movie. Even though she played the antagonist, she became the most relatable character for me. She was nominated for best supporting actress at the Critics Choice, SAG awards, and Oscars.
There are two other performances to note, those of James Hong and Jamie Lee Curtis. On the former, I wish the movie explored James Hong's character more deeply by showing his relationship with Evelyn. On the latter, though I liked her performance, I would not go as far as to say Jamie Lee Curtis deserved a nomination for best supporting actress at the Oscars. In fact, I thought it was a bit outrageous for the Golden Globes and BAFTA to nominate her instead of Stephanie Hsu.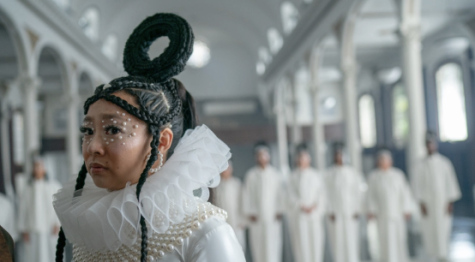 The directors do a wonderful job of bringing their stylistic vision to the screen, perfectly blending comedy, drama, and action. Their ability to keep such a complex story cohesive was admirable. Their style might be a bit too weird and bizarre for people, but I thought the film struck the balance between comedy and serious sci-fi perfectly. The emotional moments in the movie were crafted with excellence and could easily evoke strong emotions from the audience.
Anyone who feels like they haven't seen an original story from a movie should check Everything Everywhere All at Once out immediately. The idea of the multiverse has been used in many action movies–especially superhero movies–but this movie changed the narrative completely. There are deep themes explored in the movie including nihilism, family, depression, and hope. Each is subtly but extensively explored through the use of unique symbols, like googly eyes and bagels.
Many technical elements in the movie flawlessly work together to create an engaging and exhilarating work of art. Everything Everywhere All at Once easily deserves all the love and awards. I don't know if it will win Best Picture at the Oscars, but I will say the movie is a strong front-runner. Therefore, I would give Everything Everywhere All at Once a solid 5 out of 5 flames. Everyone, everywhere should check this movie out.

Note that this article was written before the Oscars ceremony took place on March 13th. It won Best Film Editing, Best Original Screenplay, Best Supporting Actress for Curtis, Best Supporting Actor, Best Actress, Best Director(s), and Best Picture.
Leave a Comment