What UNIS' First Spirit Rally Means to Me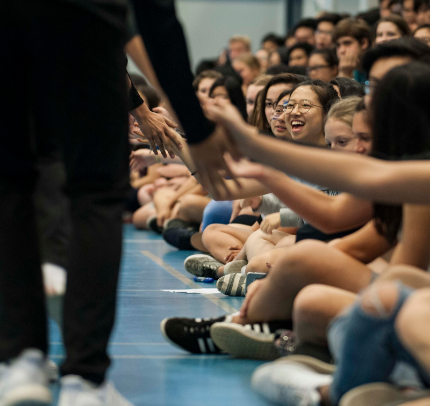 UNIS Hanoi is a reputable school known internationally for the name it upholds, the diversity of its students, our academic achievements, large campus and much more. But have you ever heard about UNIS as a community? As a student body? What the people seem to vibe with, what gets them going or how our interests drive us? I never did when approaching the school. Even though we have such a unique and diverse student body, we are all lacking one thing as a school: spirit.
According to this article, school spirit is about the positive attitude students and teachers have about their school. Personally, I think it is about bringing unity into a place where we spend most of our days with familiar faces and shedding a positive light on the student body you happen to be a part of. I do think there are many different ways to display pride and unity of a school, but a spirit rally is a great way for a team of students to feel appreciated and acknowledged by their community, to know that their efforts mean something to school as a whole, since they represent the school's name and maybe your friend happens to be a participant.
The Spirit Rally gives UNIS an opportunity for all high schoolers to: sit in the gym together; to watch entertainment acts; acknowledge and wish good luck to the departing APAC athletes; to shed a spotlight to the talent and hard workers that the UNIS community holds. The Spirit Rally is an event which intends to show unity among the diverse and different students that make up teams and performances. The different audience members get to see people they may not have known and, with all these differences and perspectives, say we all share common ground and that is the kind of school we go to.
School shouldn't be a place where you are easily blended into the crowd, or feel ignored or irrelevant. You spend roughly nine months in school, you meet your friends in school, you develop your interests or skills in school. For myself, I wouldn't want it to be an experience where there is a girl in my graduating class I never had the privilege of knowing or not connecting with. Even if there is somebody you are indifferent to, the pride of your school and the experience you have here is shared.
As a performer in the first spirit rally, it was new and exciting for me to entertain a crowd that was there for the teams, to show support for something people actually invested time into. It was fun to see an audience interactive and laughing at the dance step that was right on that beat. It was an opportunity to have fun, come together and spend time with one another. With the cheers, the laughs, the challenges that fill the atmosphere, where you are able to work hard as a school and play hard as a school.
If there is a music night, an art exhibition, an afternoon game or tournament, how many people actually turn up? If you ask students, they would make comments like, "I don't care" or "What does that have to do with me?" My answer is you should show some interest into what the people surrounding you are doing and you are a member of this community.
UNIS' Senate and the student body are taking great steps towards building school as a scene where you can enjoy yourself and the experience being actually cool. Wearing the themes on Spirit Week, having fun at the rallies or showing up to movie night, just builds a sense of community and makes you proud to say you actually enjoyed your school experience.
Leave a Comment