Orientation Session & BBQ: Going Back to School
Meeting new faces and laughing with old ones. There is something for everybody at the Orientation Session and the BBQ.
On the day before classes began for the 2013-14 school year, the annual Orientation Session was hosted at UNIS Campus from 11:00. New students arrived and are guided through a myriad of checkups with volunteer students, checking tablets, checking ISIS, checking classrooms locations, etc. If anyone is jealous, to add salt to the wound there were pizzas. How good were they? Volunteer student Trung Tran comments: "Al Fresco's, so pretty good".
The real excitement came around 16:00 as old students and their family congregates at the covered court where two rows of outdoor lunch tables were set out in the middle of four food tables, starting the BBQ. There were pizzas, roasted chicken wings, hamburgers, hot dogs, salads, corn, potato fries. The best, however, was definitely the lemonade, sweet and very satisfying. The very first casualty of this big feast has been a slice of pizza. 15 minutes into the BBQ, a slice of pizza has been dropped, interestingly, cheese-side up.
The food however did not distract the crowd (especially the pizzas, they did not distract the crowd) from catching up to what they've been up to in summer. The usual interrogation of: "How you've been? Where did you go? Did you have fun?" It always comes back to the subject of school at the end, however.
With school starting the next day, there were happy faces and there were grim faces. Math teacher Ben Moyale sums it up with: "sweet and sour". On one hand, Learning Support teacher Jonathan Trebesch feels "exhilarating" when coming back to school, his wife, Math teacher Samantha Trebesch is "very excited", and Chemistry teacher Rebecca Berchard feels "Great!". But the prospect of going back to work is not that great in Mr. Moyale's point of view. Even being able to meet his students again doesn't help as "they keep emailing about their Internal Assessments".
The same could be said from students. Answers range from angry rants to giddy anticipation. One thing is for sure, all are afraid of school work and the oncoming challenges. Upon mentioning school on a Skype conversation, Huy Nguyen 11th grade suddenly posted: "I feel more tired,"  joining a chorus of other students. Some students however have a more positive outlook. 12th grade student and HS Senator Jonas Fiebrantz commented on the "huge variety of talent and gifts" bringing forth by students last year and he hopes that "we can make this school year the best year UNIS has had."
Another senator, wishing to remain anonymous, says "it is SO great to be back at school after 2 months of summer," he *chuckles*. A new student also remains upbeat. Soya Kanemaru is looking forward to UNIS and joining its big community, especially the "tennis and MRISA" programs on offer.
Nothing can beat Dr. Barder, Head of School, who said going back to school is "Fantastic! Absolutely" missing the students and wishing to see them starting school the next day.
Orientation was informative, the BBQ was fun, students were complaining, it seems like we're back to school already.
Leave a Comment
About the Contributor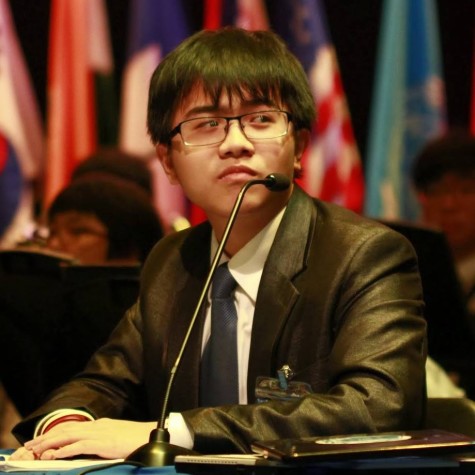 VIet Than, Chief Editor
Viet Than is a 9-year veteran of UNIS currently in his senior year. As the Chief Editor, the Flame sucked him away from times for fantasy/sci-fi books and...