"Dead Poets Society" and The Meaning of Life
Synopsis: "A new English teacher, John Keating (Robin Williams), is introduced to an all-boys preparatory school that is known for its ancient traditions and high standards. Using unorthodox methods to reach out to his students, who face enormous pressures from their parents and the school, Keating encourages students to break out of their shells, pursue their dreams and seize the day." (Wikipedia)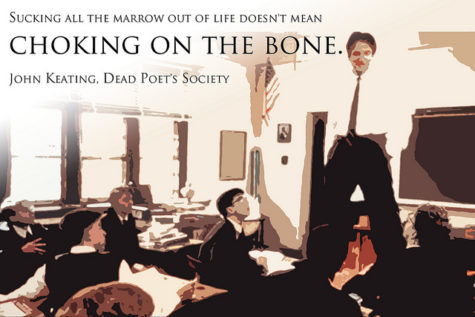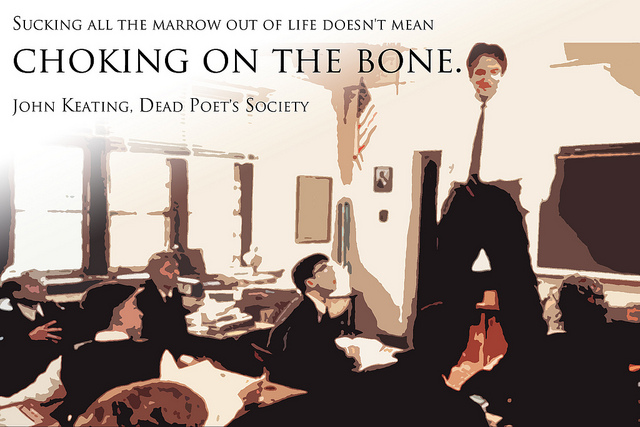 "You are here. And life exists. And identity. That the powerful play goes on and you may contribute a verse. What will your verse be?"
—————————————————————————————————————————-
Every movie has the capacity to captivate, inspire, and empower; however, the extent of a movie's impact is definitely variable.
Dead Poet's Society is a movie with this undeniable capacity. It might not be a movie that would make people exclaim with excitement when talking about it to their friends, but for me, it's a treasure. It's a movie that I just want to keep to myself. It's not cynical, but I wouldn't categorize it as visionary either. I first watched the movie when I was 15, and I was so in love with it that I kept a small pocket notebook filled with its quotes. To say the least, this movie has taught me lessons that continue to provoke my thinking. Like a symphony, it has soothing melodies and melancholic harmonies. It evokes emotion from deep within, and it is haunting and stirring.
Below I have listed some aspects of the movie that impacted me greatly.
Carpé Diem
"Gather your rosebuds while you may. The Latin term for that sentence is Carpé Diem. Carpé Diem. That's seize the day. Why does the author use this line? Because we are food for worms, lads. Because believe it or not, each and every one of us in this room is one day, going to stop breathing, turn cold, and die."
This is probably one of the most famous quotes from the movie. Professor Keating says this to his students on the first day of school at Welton Academy. This quote leaves the students, as well as the audience, in awe; Keating's beliefs are exactly the unorthodox approaches to education that neither Welton nor the students' parents support. Yet, it is this quote that rings true to his students.
At Welton, the students are programmed into following the same, old, boring, and predictable lifestyle that their fathers, their father's fathers have lived. Therefore, Keating's way of life immediately shoots down the "one size fits all" belief that is held at the academy. We are all going to die, no matter what kind of person we become. Because of that, we should live life to its fullest. While Welton sees sameness as what is needed to sustain life, Keating sees it as what is needed to die. Through this, we are able to see Keating's aspiration as an educator: to inspire his students to follow their dreams and think for themselves.
However, a downfall of this teaching is the way many students misunderstood the idea of the end of the road. They believe that a meaningless life is one without creativity when they are supposed to believe that a meaningless life is one where they aren't able to pursue their passions. Neil Perry, one of the main characters in the movie, dreams of becoming an actor but is oppressed by his father to go to Harvard and become a doctor. Neil takes his teacher's advice, to seize the day, to heart and takes up the role of Puck in the school play. However, when Mr. Perry finds out that his son had been neglecting his studies for some theater bogus, he furiously pulls Neil out from the play and threatens to send the latter to Braden Military School. This is where Neil makes the mistake of twisting Keaton's words – while Keating says "live life to the fullest because we will all die", Neil hears "we should die if we can't live life to the fullest".
Standing on desks
"I stand upon my desk to remind myself that we should constantly look at things in a different way. See, the world looks very different from up here… Just when you think you know something, you have to look at it in another way. Even if it may seem silly, or wrong, you must try."
The idea of standing atop their desks is another recurring motif in the movie and holds great meaning. It originally serves to represent open-mindedness; it encourages thinking from different perspectives and thoughtfulness from outside the box. And Keating's teaching methods were cynical. He teaches them to look at things from different points of view by literally making them look from a different point of view. He also makes his students tear out the pages of their textbook to shut down the assumptions that you should just accept what is told to you, but rather you should think for your own self and make your own ideas.
"Now, when you read, don't just consider what the author thinks, consider what you think. You must strive to find your own voice. Because the longer you wait to begin, the less likely you are to find it at all. Faroes said most men lead lives of quiet desperation. Don't be resigned to that. Breakout. Don't just walk off the edge like lemmings. Look around you. Dare to strike out and find new ground."
In the first and last scenes where Keating makes his appearance, characters are directed to stand on desks – he stands on his desk in his first scene, and his students stand on their desks in the last. The last scene is also when the movie takes a turn (after the sacking of Mr. Keating), and the action serves to represent unity, togetherness, as well as rebellion against an unjust system. At the end of the movie, as Mr. Keating is shown to collect his belongings and leave his teaching position, his students, one by one, rise up and stand on their desks, saying: "O Captain, my Captain"…
"O Captain, my Captain"
It's also interesting to note that the line "O Captain, my Captain" appears twice along with the standing-on-desks action, and it's also an allusion to Walt Whitman's poem about Abraham Lincoln who, as claimed by Whitman, died an unfair death despite sacrificing and working tirelessly to help his people. By appearing in Keating's first scene (and by being said by Keating himself), it may possible foreshadow the cruel sacking of Keating despite all that he's done for his fellow students; and by appearing in Keating's last scene (being said by Todd, one of the students), the line demonstrates the nonconformist that Keating has taught his students to be. This proves the immense influence that Keating had on his students despite only being around for less than a year – he has passed on to his students his enthusiasm, his passion, his love, and his freedom of mind.
—————————————————————————————————————————-
My first time watching the movie was also my last. It's just that special to me, like an old CD that I only take out to look at and appreciate but not to listen to. Maybe another time; maybe a time when I am stuck or when I really need the comfort and empowerment, will I watch it again. But until then, I would just like to reminisce on and appreciate the lessons that the 15-year-old has learnt. Until then, just the comfort of knowing I have such a beautiful thing to turn to in times of trouble is good enough for me.
View Comments (4)