Varsity Tennis Team Assembles
One of the most popular sports among the many co-curricular activities at UNIS is Varsity Tennis. More than 25 students participated in the first 2 weeks of training, before the number of contenders for the Varsity team had to be cut. It was a delight to see excellent new players who made the practice a lot more competitive than last year. Competition is a crucial part of tennis for the coaches, in order to measure and compare a player's capability. This year, the competitive elimination process has helped the team improve their concentration, skill, and mindset. The UNIS Varsity Tennis team, as a result, seems stronger than ever.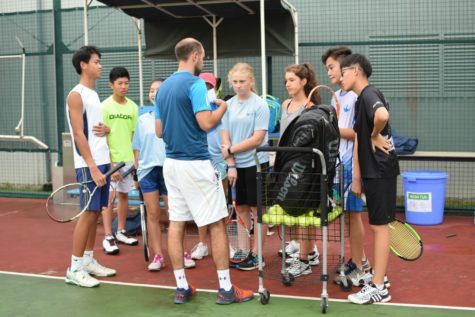 The team debuted on Saturday, September 16th, for a friendly Tennis Tournament with BIS and Saint Paul. Nguyen Dao, grade 11, tells us his first victory of the season:
How do you feel about this win?
ND: "This was my first match of the tournament, I tried my best and won 5-0, and it felt really good. I played against Quang Minh (BIS), he's a great player, very consistent."
What have you guys been doing to prepare for the APAC?
ND: "We practice four times a week, and we have a lot of different drills and fitness routines as well. We're going to Bangkok next weekend, after trip week."
Thai (grade 12): "We also do suicides and wall-sits. Yesterday we did meditation in the gym room because it was raining outside. I really felt at peace with that exercise!"
(Jae Min, grade 12, interrupts)
JM: "Wait, next week is the trip week? And we're playing after trip week? Oh man, I have so many tests after that…"
Haha! So what do you guys think of this season's team assemble?
JM: "I hope Dao carries, 'cause he's really good. And compared to last year, I think this year's team is much stronger."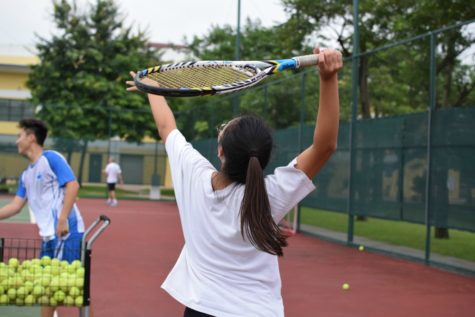 A lot has changed in terms of the dynamics of the team, team member Isabella Cardona, grade 12, said:
"I was new last year, so it was helpful to have people that were there the year before to lead us. And this year, we have a pretty good mix of new and old people, a lot of new 10th and 11th graders, who provides us new ideas and different sets of skills, as some have played tennis longer than others. So it's really interesting to the variety of skills come together."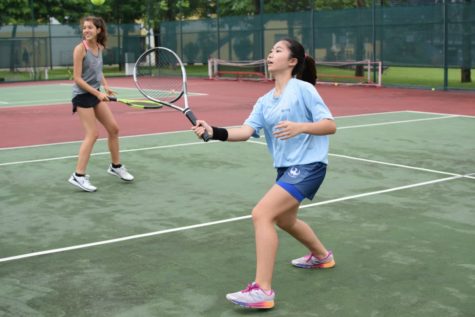 This year, the new UNIS Tennis Academy launched, with the addition of professional tennis coach, Nick Firth. Coach Firth had four years of experience as a racket manager in Saudi Arabia, where he organized tennis and badminton tournaments, then he became the head coach of a tennis club in Whales:
How was your experience, coming in as the new coach and adjusting to the environmental changes?
"It's exciting, I think there's a lot of potential for both tennis teams. The heat is definitely different from where I came from. Adjusting to the humidity and rain, and getting to know everyone, their names and what they're aiming for in tennis, is part of the big transition I have to go through."
Now that you're working with high schoolers, it's a totally different age group. Do you find that inspiring in a way?
"Yeah, I think it's great. It's quite exciting to be involved with this kind of environment, and I think the kids appreciate this kind of excitement for tennis as well. They get a massive buzz and a lot of experience out of it. I'm really looking forward to the trip to Bangkok, for some match-play practice. We've been training hard; technical, tactical, mental, and physical training. And, well, I'd like to have more training time, too. As you know, the tennis season is first, so it would be nice to have more time, but we'll be ready for the APAC tournament in time, and everyone will try their best for it!"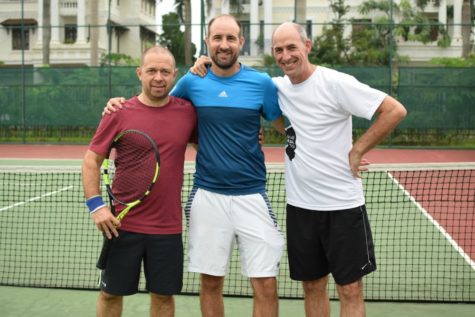 This year's APAC Tennis is held at Western Academy of Beijing, from October 18th to 22nd. 
Photos by Chinh Mai.