Grade 11 DP Theatre Production of Almost, Maine
Almost, Maine is an absorbing play written by John Cariani that has been positively received by theatre audiences all around the world. The Grade 11 theatre students of UNIS Hanoi had the opportunity to perform this play as a two-day performance on April 12th and 13th.
The play features the lives of the residents of Almost, Maine, an interesting, quirky, and wondrous town. Nine eccentric and funny vignettes depict the various journeys of the residents of the town as they find love, repair broken love, win back lost love, and discover a new love. The town of Almost is rather weird in the sense that you get to see stuff that is pretty unlikely to happen in real life. It is the kind of town where a person cannot confess her feelings to someone standing right in front of her because she keeps "falling" in love (as in literally falling down on the stage). It's also a town where it takes (what feels like) hours for two people to remove their many layers of clothing before they can get intimate because they have their entire wardrobe on, and the kind of place where you can travel almost 40,000 km in just two acts. Despite this, the people of Almost are just like you and me: they drink, party, sleep and eat like any normal person would. The audience is taken through the lives of these people, who are pretty normal but tend to fall in love in unique ways. This unusualness is what makes this play worth your time.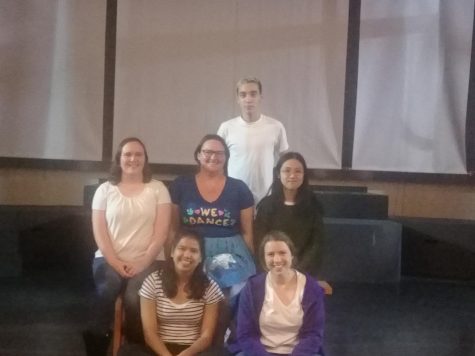 Grade 11 theatre students were able to elevate the original script to a whole new level. Their production made it evident that the line that separates the students from professionals is fading away. For those who came to watch the play, it was clear that the students had put in hours of hard work into making this play as seasoned and worthy of its name as possible. Their effort was met by roaring applause at the end of each performance.
One of the performers, Mikaela Fenn, talks about the hard journey as the team prepared for their respective roles and what went into making the play a tour de force. She described the process of putting the show together, which involved assigning roles; directing; and designing lighting, sound, props, and costumes.
"Although it may not have looked it, we had three weeks to put this show together. We were all stressed at different times and different extremes but we were able to bring it all together in the end. It always comes together in the end and I am so proud of our performances." Fenn said. So it may not look like it, but show business is stressful and you might end up with one or two white hairs.
Krisha Valle, another one of the performers, spoke to The Flame about preparation for Almost, Maine. "Having needed to work independently to produce an entire play was a new experience for all of us and I personally enjoyed every second of it. I was in charge of lighting, and it was honestly such an interesting experience. I have always been on stage and I have never really needed to worry about what goes on backstage especially with lightning. It was interesting and exciting to learn how important this aspect if the production can be and how easy it is to convey subtle messages through lighting." Valle said.
There were many different perspectives of the play. Fenn expressed how she felt about the play as a whole. "Almost, Maine, for me, is a wonderful play because it has a balance between real life and magic. Every scene is one that you could find in an everyday situation but the symbolism that is used in each scene makes the stories seem even more surreal and majestic." Fenn said.
Dat Truong, one of the audience members, also appreciated the play's uniqueness.  "The play was very different from what I have seen. I liked how the different segments didn't really have an ending but they all ended up with somewhat of a cliffhanger." Truong said.
So even though people had different opinions on the play, I am sure that none of them went home unsatisfied.
Photos Courtesy of UNIS Hanoi
Leave a Comment