Celebration of Tet
As animated children jump and dance around the brightly decorated living room, the older members of the family prepare the dining table for the sizable feast that will fill the hungry stomachs of the dozens of family members that are soon to arrive. A spectacular array of sweet treats line the table. Tet celebrates the new year with the hope that it will be as sweet, if not sweeter than the last. Tet follows the Chinese calendar, making this the year of the Pig.
The apricot and peach blossoms are symbols of spring in Vietnam. The North is proud of pink peach blossoms and the South is proud of the apricot blossom. Both blossoms represent wealth and affluence in the new year. Many buy apricot flowers in pots or buy individual branches to decorate their houses. Many believe that e large, full buds bring good luck so they choose flowers with many buds. If the apricot blossoms are blooming in the morning, it indicates that the flower's owner will receive more good luck throughout the new year.
Celebrated all across Vietnam, Tet usually falls during February. As the celebrations start, yellow flowers and ornaments, such as bright red lanterns and envelopes filled with money, adorn houses all across Vietnam.
One of the most important traditions found in a household during Tet is the five-fruit tray. This tray symbolises the family's respect for their ancestors and their hopes for the new year.
Melanie Do, an MYP and DP French teacher at UNIS, described some of the exciting traditions she partakes in with family and friends and mentioned that it is a common tradition for her family to have a platter of different kinds of fruits.  She said that these sweet snacks signify what people wish for in the new year.
Before the celebrations start, people choose and organize their fruit according to colour. In the North, many believe that the natural elements of the earth, are represented by colours. Metal, wood, water, fire, and earth correlate with white, blue, black, red and yellow. The northern five-fruit tray often includes banana, pomelo, peach, mandarin, and persimmon. In some areas of Vietnam, it is hard to grow some of these fruits due to the climate. If these fruits are not available, similar fruits which are available are used instead. This can include fruits such as dragonfruit, watermelon, pineapple, and orange.
The five-fruit tray in the South is based on the traditional southern wish for a wealthy New Year. It is generally made up of custard apples, figs, coconuts, papayas, and mangos. Families also like to display red watermelons to bring luck for the year.
As Tet approaches you'll notice a fire burning all night long on the stove in many Vietnamese homes. Families cook traditional cakes for Tết, called Bánh Tét. It is a unique dish in the South. Making and eating Banh Tet is an activity where families can come together and enjoy each others presence Families and neighbours sit together and share the taste of Banh Tet on the first day of New Year. In the North, a similar dish, called Bánh Chung, is made. It has the same ingredients but is a square shape rather than the cylindrical shape of Bánh Tet.
Another important Tet tradition is where the elders of the family give red envelopes, so-called, "Lì Xì," lucky money, to the younger members of the family. Many Vietnamese UNIS students celebrate Tet and receive a sizeable amount of "Lucky Money" from their family members. UNIS student Katie Tran said that she gets money from every adult member of her family as well as some close friends. The children also learn Lion Dance, making a lot of noise while dancing to chase away the bad spirits or energy. This allows everyone to welcome the new year with new opportunities and perspectives.
Do lived abroad for much of her youth but she explained how she managed to keep in touch with her traditions: "My family lived abroad for so long that we have many multicultural influences and we enjoy keeping them alive and making them our own. They reflect our family identity, which is a mix of French and Vietnamese beliefs and traditions." She explained some of her family traditions: "We created a live show with traditional dances and music where all talents are welcome to perform on stage. The show finished with pot luck where each family provided a traditional plate or other dishes to share."
Do said that she celebrates Tet during Christmas because her children are grown up and don't have a Tet break.
"As a multicultural and global citizen, my heart is always between East and West," said Do. "I am proud of my origins and the multicultural experiences that have filled my life with new discoveries, experiences, and happiness!"
Every year, Vietnamese people all around the world come together to celebrate the new Lunar year with the hope that it will be full of happiness and warmth. It is a time of happiness and togetherness, as family members catch up with each other and begin the new year with laughter.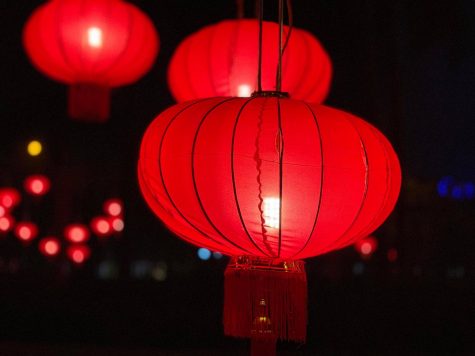 View Comments (1)