The Life of an MUN Admin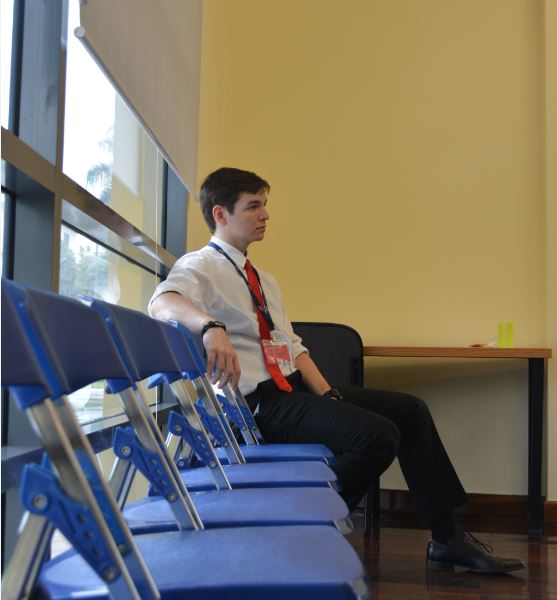 I've never been interested in being a delegate for Model United Nations. I don't really plan to be in the future. I've had a couple different people ask me why I haven't joined the group, and honestly there is not much about it that appeals to me. You spend all that time writing resolutions and meeting with your delegation, and then sit in those horribly long and boring meetings and have to memorize the correct lingo and try not to laugh when someone slips up during their speech or attempts to make a funny comment. Don't get me wrong, I think MUN is an excellent skill building activity and something exceptionally useful to add on the college applications, and I have a tremendous amount of respect for the delegates who do put all the time and effort into the debates.  But I simply don't think it's the right fit for me, and that's why I'm not an MUN delegate. I'm an administrator.
If anyone ever tells you being an MUN admin is easy, beat them on the head because they're lying.  Being an admin is by no means an easy job; if I had to come up with three words synonymous with administrator it would be stress, printing, and stress. I think Giang, PZ, Rosie, Khanh An and I stayed at school until 6PM on Wednesday because we had run around to all the different rooms to tape paper to chairs, hand out notepapers, set up placards, organize shirts, and of course make sure all the name tags were in the right basket. And I guarantee you that at some point during the conference, this came apart – I bet I could count on both my hands and feet the number of people that kept up with all three of their lunch tickets. (Ok perhaps this is an exaggerated statistic…but really, we told you to keep up with them!)
I had the honor of being the sole administrator for the very prestigious Security Council, based in the fabulous conference room in B7. I was both surprised and impressed by the dedication and enthusiasm the SC delegates placed in their debate topics. I had heard numerous stories of the amusing and/or humiliating notes sent around in the different committees, but there were virtually no funny business going on in the Security Council – can't speak for the other committees though! And while the first day was a bit slow and uneventful  as the delegates were simply lobbying and planning out their resolutions, the following two days were filled with furious passionate debating and heated (but civilized, of course) arguments concerning topics such as ISIS and the violence in Ukraine.  It was actually very informative and interesting to listen to from a third person perspective.
In terms of outside the conference room, the administrating duties ranged from making sure all the required documents were printed out, to making sure the delegates had their lunch tickets, to simply making sure our team leader Giang wasn't stressing out. Perhaps the most strenuous aspect of our duties is having to stand up and look as professional as possible while the delegates are debating, keeping in mind that one of the Directors could walk in at any minute.  This is s a lot harder than it sounds when you realize that it would last for fifty minute sessions. So once the chair called for a five minute breaking period, all the delegates would burst out of their seats to stretch out and walk around while I would be looking for the nearest to chair to plop down on. But nothing could have prepared me for the madness that was the plenary session. Plenary round up all the committees, minus the Security Council; everyone gathers up in the auditorium and the countries have their specialized seating, and the entire delegation debates on all the different resolutions that have been passes in the individual committees. In other words its madness.
The admins of course have to continue passing notes between the countries, as well as pass out resolutions to the countries and count up the number of voters at the end of each debating period. Now I'd like to think I'm a pretty fit guy, but I must admit, it was quite a workout having to move up and down the stairs and weaving between the rows of seats, trying unsuccessfully to avoid knocking my shin or tripping. As the admin of the SC, I was looking forward not having to be involved with plenary session and continue passing notes for in the SC, who were handling an emergency crisis at the time, but my hopes were crushed by the tyrannical Giang but Giang asked if I would be willing to help during the plenary instead. Oh well…
Being an admin is not for everybody; you have to be organized, calm under pressure, a good communicator, and above all else you must be a team player. But that's why I enjoy it. I'd like to give a special thanks Ms. Frose and Señor Graña for all their hard work organizing the conference, give a very big thank you to Ms. Giang in the Activities Office for assisting the Admin team during our various crises, and a shout out to all the fantastic delegates. But above all else I'd like to congratulate the awesome admin team, and a very big thank you to the wonderful Giang Nguyen in Grade 10, who without her organization skills and leadership, we simply would have fallen apart. Good work everyone, see you next year.
View Comments (1)