Anime Review Desu: Nisekoi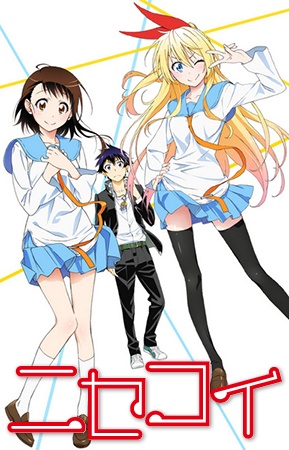 Series Title: Nisekoi
Genres: Comedy, Romance, School, Shounen, Harem
Review:
Raku Ichijou is just "normal" high school student… who happens to be from a yakuza (Japanese mafia) family.  Ten years ago, he made a secret promise to a girl he knew to marry her if and when they reunite. The girl gave Raku a locked pendant while she kept the key to it. Ever since then, Raku took extreme care of the pendant. However, things changes for Raku he meets Chitoge Kirisaki, a new transfer student to his school. By a weird turn of events, Raku is forced to serve as Chitoge's fake boyfriend for three years, even though he has his sights set on someone else – Onodera Kosaki.
This type of anime would be considered very unoriginal to many viewers. However, what makes this anime so exciting and interesting is how the author portrays each pf characters. First we have Chitoge, who likes Raku about as much as a fat kid likes vegetables, always showing violence and being angry at Raku all the time. However, there are times where she is sweet and lovely towards Raku. Onodera on the other hand, is very quiet and shy (cough cough HINATA cough). She has feelings towards Raku but she could never overcome the fear to talk to him. We always see her trying her best to build a relation towards Raku but she never manage to do it. And lastly, we have Raku, who is sort of a silly and careless protagonist, and is the envy of any male viewer as he seems to attract girls effortlessly. He never grasps the situation and screws up all the time which makes the scene funny at times.
In terms of the graphic and art of this anime, it is considered by many otaku to be very simple. There are no amazing effects, as it is more of a story based series. The character facial expression played a big role in this anime as well. Because the character's facial expression are portrayed in an exaggerated and humorous manner, jokes made by the characters became more humorous and satirical.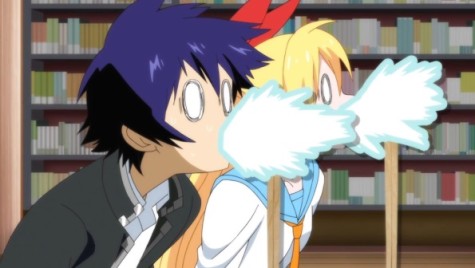 Although I find the art and graphics for this anime lacking just a bit, the romance and comedy part of the anime help fill in the gap. Overall, this anime is very enjoyable. Although this definitely is not one of those cliché action or thriller shonen manga, this could be an interesting anime to watch out for.
Flame Rating: 6 of 7
Leave a Comment