Middle School Swim Meet!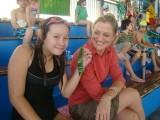 On October 22nd 2012, The UNIS Middle School had the 23rd    Annual Swim Meet. Although it was competitive and intense, everyone had enjoyed it and had fun. To make it all come together, more than 10 people have set a new swimming record!
Here is a list of all of the people that have set a new UNIS Swimming Record.
Stephanie Kieft G06 –  50m and 25m Freestyle, 10om IM and 50m Fly
Alan Luchtenburg G08 – 50m Freestyle
Akira Hirama G07 – 50m Backstroke, 50m and 25m Fly and 50m Breaststroke
Sofie Brondum Reed G08 – 50m Backstroke
Samuel Alldritt G08 –  50m Breaststroke
Zoe Johnston G07 –  50m Breaststroke
Na Yeon Kim G07 – 50m Fly
Duc Do G08 – 50m and 25m Fly, 100m IM and 25 Freestyle
Ido Kaufman G08 – 25m Breastroke
Congratulations Guys!
Even though Eagles won, the buffaloes, tigers, and lions were just as good as the Eagles. Everyone tried their best and tried to win for the team.
The Swim Meet was a Fantastic Event, and we all hope that next year's Annual Swim Meet will be just as great.