What Do You Think About the Personal Project?
Hang on for a minute...we're trying to find some more stories you might like.
Every year, Grade 10 students undergo a strenuous and creative eight-month journey called the MYP Personal Project. The task: to inquire into a topic of your interest and then develop a product as part of the process. Sounds simple? Well, not so much. It involves plenty of sleepless nights for some and emotional breakdowns for others, but ultimately, everyone indubitably comes out with a sense of achievement.
On Tuesday, 7th March, this year's Personal Project Exhibition Night was showcased at the Art Center, with numerous spectators amazed at how much these students can accomplish over this arduous journey. So whether you are a soon-to-be-starting-PP student in grade 9, a parent of one of the students presenting in the exhibition, or just someone who is interested in this fascinating cluster of hard work and creativity, take a look at how we see the Exhibition Night.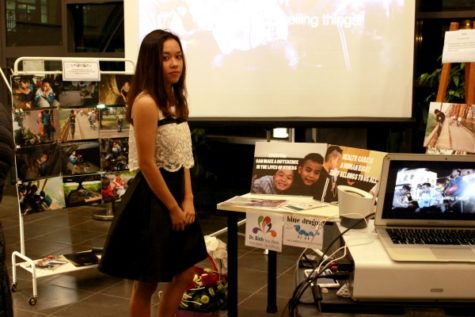 The supervisors played a crucial part in the Personal Project success, guiding the students through what could seem like a frightening assessment, keeping them on track, and passing their own invaluable experience onto the students to help them be able to achieve those top criteria. Here is what they have had to say about the project:
"Usually students start by saying 'Oh, the PP is compulsory', and they don't like it. But then they find the idea that they really like, and they become engaged. So the hard part is just to find the idea to start with. And when you find something you're passionate about, you stop counting the hours! So my advice is to choose the idea and the topics you like!" – Melanie Do
"I would add to that: communicate with your supervisor. They can help to bring you to success." – Carlo Palusci
"[The objectives have changed over the years] because when I first did this it was inane; the product wasn't even on the final grade. The thing that you really want to show off wasn't as valued as the process. And I wish it was even more, I wish it was half product, half process graded. My tip is to do something you love, or else you will hate the whole project!" – Lori Key
"I think there's a great diversity, there are a lot that are quite socially powerful. The LGBT one for example, it feels to me like the students have really tackled some tough issues." – Donna Bracewell
Some very proud parents commented on the issues that the students tackled, and how much they've grown over the course of the project.
"I'm very impressed with the way they put this up," said one parent. "Because this is more on the college level, so I'm very surprised to see the kids—oh, not kids, I'm sorry! The students! How the students on campus seem like they are carefree and not as sophisticated. But then when I heard some of the students speak in this exhibition, it was like a night-and-day transformation! I'm very surprised! Just the way they dress, like who are they? It' just, I'm impressed, like they grew overnight!"
"I'd imagine, like, 10 years from now I will see a building coming up, I'd say, 'Hey, I knew him. He built a bamboo hut model once, and now he's an architect, an MIT kid!' or something along the lines. I don't know the standards, but I'm just very, very impressed," said another parent. 
"I mean, you've done this, what do you think?" – Ron Eusebio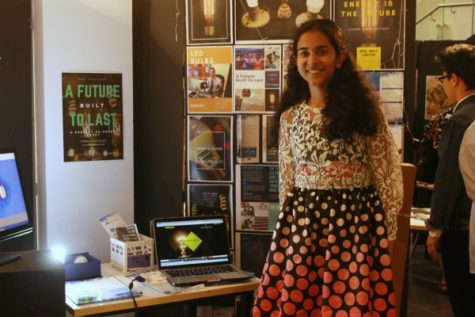 "Well, that's great because they've improved from last year. At least they set new standards for the next years, and it gets better year by year. So now that they've set the new bar, the 9th graders will have to top this!" – Ron Eusebio
"On the issues and topics that the students presented, there was a wide variety! I was especially intrigued by the ones that may seem small, like the energy saving light bulbs. But it turns out to be so important, like how the school is building new facilities, so they will need to incorporate eco-friendly light bulbs. So that small thing can come in hand with big projects and make the world better." – Hannah Hogberg
11th grade students also came to support their underclassmen at the exhibition. They had moments of realization for themselves and moments of admiration for the 10th graders as well.
"I am so much more impressed now, knowing what I had to go through and seeing them go through the same process, but with a much more well-developed products. I'm very impressed with them! The process helps you manage your time better. It prepares you for the amount of work you have to put in the DP, and I heard, for the EE as well." – Ellie Somers
"I was really fascinated to see these projects. They must have spent a lot more time on it than we did. Yeah and it got me more fit, because my personal project was about fitness!" – Ava Pilgrim
Why do you think they spent more time on it?
"Yeah, well I think it's because we told them to. We sort of guided them, and told them to avoid the mistakes that we took with time management" – Ava
"And just their work ethics are high, and the overall effort that they put in are higher than some of the students in my grade." – Ellie
Finally, there was the woman behind the show, Ms. Barnsley, who is the MYP coordinator. Ms. Barnsley has been a MYP Coordinator for about 5 to 6 years, and she knew what was best for the students as well as the supervisors. She has shed light on what it was like to arrange the projects and cooperate with students. Below is an interview with Ms. Barnsley. 
What is the difference between the coordinator and the supervisors?
"The coordinators help to organize the process for students and supervisors, to help students in becoming successful, and help supervisors support students best."
What are your thoughts on the issues and topics that students covered this year?
"I'm always amazed at the diversity of issues that students choose to explore. Because, remember, they select their own goals, but they also have to follow the frame of the global contexts, which takes them from personal inquiries to inquiries outside of themselves. So we have things from human trafficking to animal rights, to scientific developments, to music and fashion. It gives them an opportunity to be creative in a way that sometimes you're not allowed to be in a normal classroom."
Do you think the PP is important in MYP?
"It's kind of like the test of the MYP, in terms of having students learn to be independent or the learner profile attributes, and especially the inquiry. As it is an open inquiry, you get to choose the questions, the goals and the success criteria. So all the little building blocks from the PYP, and in grade 10 you get to develop them and showcase them, to test yourself as an IB learner.
"The expectations are very high. And it should be hard. Anything worthwhile is hard."
Do you have any tips or feedbacks for supervisors? Or tips for new teachers who might not be acquainted with the projects?:
"Supervisors should help students find their passion, and when students are interested and curious, they are able to be more successful. Because if you love what you're researching, then the whole thing is so much easier. So guide them towards areas that will enhance their understanding of complex issues.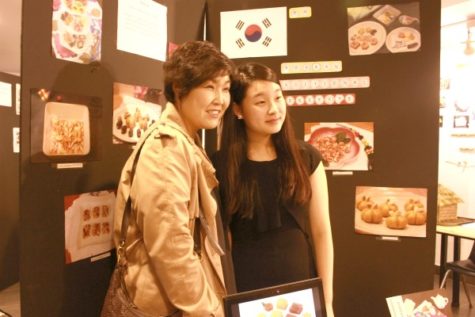 "I think it's challenging to give students the space that will help them learn how to be process oriented. So learning the importance of process is the key."
Should students always approach first, or supervisors should approach students too?
"I think it's a balance. Ideally, students should always initiate, because it's their learning, to own their own learning. You know that phrase? 'Own your own learning' is really important, and by grade 10 there is some understanding of how to do that.
"But then again, life happens, and it's easy to get disorganized. So that's when supervisors should come in to support when things are falling apart, I would like to say 'when the wheels fall off'. And it happens, that's when we would like to come in, not to do things for you, but to help students get back on track and do their own learning." – Cindy Barnsley