Hairspray: Review
This school year's first school play was the musical "Hairspray". They musical, set in the 1960s, recounts the story of teenage protagonist Tracy Turnblad and her quest to get her favorite dance and singing show "The Nicest Kids in Town" to integrate beatniks into the regular show. However, there are people in the TV show (namely Amber Von Tussle – a lead dancer, and her mother Velma – the station manager) who aren't happy with the idea of integrating beatniks into the show beyond their once-a-month special: Beatnik Day.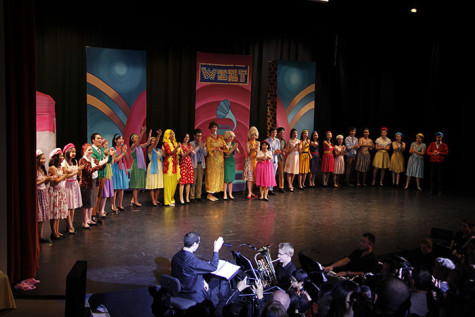 The UNIS production of this play was very heavily invested in (and it certainly paid off). It featured a very large cast of actors, musicians, a sound crew, a makeup crew, a choreographer, a conductor and more, totaling to over 40 people. As a person who came on the last night of the performances, I saw actors that were very comfortable with their lines, songs and roles, and were very energetic throughout the performance (though I did see some mismatched dance moves and hear some technical difficulties with the microphones).
Overall, the performance was very enjoyable, even the deviation from the classic African-American integration story to a "Beatnik" integration story.
Favorite Moment:
My favorite moment of the musical was when Edna and Wilbur (Tracy's parents) sang about how they are timeless to each other in the song "Timeless to Me". I really enjoyed the choreography which was simple but invoked a feeling of humor and everlasting romance. This was especially memorable because of the excellent acting skills performed by Max and Phuong, which brought the piece to life.
I feel truly sorry for anyone who didn't (or couldn't) make time to see this amazing production which would only have been better without the slight technical errors. I am already excited to see the second production for this year.
Leave a Comment