Grade 10 Service Trip to Sapa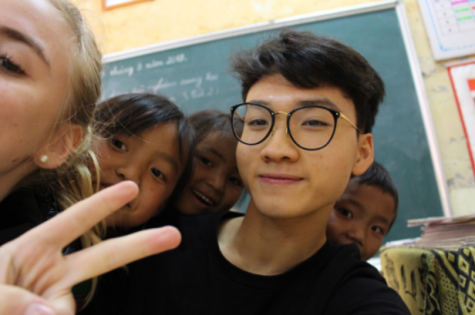 On March 8th, a group of 17 Grade 10 students embarked on a Service Learning trip to Sapa. In preparation for this trip, the students organized a rice drive and a clothing drive for the children at two local schools.
The students spent Thursday morning sorting the clothes into different boxes and loading them onto a truck and after they finished they were off to Sapa.
Early the next morning, the students got ready to visit the first school. Before handing out the rice and clothes, the students interacted with the children. They made drawings, splashed in puddles, and competed on who could throw the farthest paper airplane. While most of the students were playing with the children, some were also filming and taking pictures. Here is what one student had to say about his experience documenting the morning:
"I enjoyed taking pictures and capturing the happy moments between my peers and the children" — Khoa Bui
In the afternoon, the students visited the second school and were welcomed by a beautiful singing and dance performance. One student felt very moved by the experience:
"The most memorable moment for me was delivering the clothes to the second school because I enjoyed everyone's smiles" — Flora Hamilton
After the performance, the students gave out the clothes to the children. Some local people had also gathered around to receive the adult clothes. After the last items of clothing and bags of rice were given out, the students waved goodbye and returned to their homestay to go back to Hanoi the next morning.
According to many of the students, the trip was a great success. Here is why one student enjoyed the trip so much:
"Everyone was really kind and helpful and wanted to make a difference. Being able to spend time with the children and distributing the clothes and rice made me feel as though I was actually doing something."
The Service Learning Group will soon be releasing a video that documents the trip in more detail, but in the meantime here are some photos courtesy of Khoa Bui.
View Comments (2)