The Flame Reignites
To begin this story, I am pleased to announce that The Flame has come together once again. For weeks now, gears have been turning that allowed this student newspaper to return, like (albeit not quite) the phoenix from its ashes. Look forward to more news, more content, and more recruitment! A breath of fresh air came through the newsroom these past few weeks – and here is the story of how they came to be.
Traditionally, eleventh graders take charge of The Flame's content team – becoming the editor(s)-in-chief – towards the end of the year. However, our previous leaders, Yoon Ju and Devyani (both in grade 12) had decided to pass on the torch (pun intended) to Long and Minh Anh – both of whom have been in The Flame content team since grade 9. Members of The Flame have already seen immediate changes in how the newspaper runs, as our new leaders have done some "house cleaning" before our first publishing cycle in the new year.
Over the Winter Break, the two aspiring chiefs discussed obstacles and challenges to The Flame's content creation, and thought of ways to overcome these issues. Talking to one of the new leaders, Long, he acknowledged a lack of commitment and inconsistency to be significant problems that The Flame faces; at various times during the last semester, several meetings were cancelled for different reasons, leading to large gaps in the publishing schedule. Even when the meetings did take place, many writers or editors did not attend due to personal reasons, making the meetings much less effective. This all contributed to the low number of articles published within the first half of the school year; even the articles that made it out of the inefficient system were largely irrelevant by the time they were published, as the actual events happened weeks before. The Flame was on track to vanishing from student life, despite many individual efforts to redirect this course.
Thankfully, our leaders seem determined to overcome these issues, and even shared their ideas for The Flame with me. In an offhand comment, Long said that Jed (one of our previous (J)editor-in-chief) was an example of a good leader for The Flame in his time. "Jed was charismatic, organized and helpful, but wasn't lenient, which is a good thing". The first week back, we saw these changes being implemented: Our leaders created "Firework-shops" that help both writers and editors learn how to write with professionalism and produce higher quality articles. The content and marketing teams came together to discuss changes as well as plans for the rest of the school year, after months of sparse communication. Jobs were reassigned, as editors vastly outnumbered writers before: by giving all editors a re-entrance test, re-training editors' basic skills while making sure the quality of articles can be raised. Looks like they burned two sticks with one Flame! (I now apologize for this bad joke).
So after all these changes, what is The Flame now? Well as Long says, the Flame is still the same, and its goal is still same: to get bigger, to get louder, to create relevant and insightful articles – to become the voice of the student body. But that is not all. Like every good leader, the new chief editors need to lead us towards a vision. "I want to see this room double in size, in 'people-size'. My plan is to instill passion in [writers] after they join. They need to feel like [The Flame] is something that is worth working towards, because there are a lot of complaints, criticisms, opinions in this school that wish to be heard, and so the Flame is a perfectly good venue for those ideas to be heard".
Meanwhile, the marketing team also had a change in leadership, now being led by Emeline and Alice. Towards the future, we hope that the marketing can help us become what we couldn't be by ourselves, which is a voice directed at the students. There was an idea of physical newspaper to be distributed every month, but the idea never came through. We even discussed the possibility of using the PR system as a way to deliver news, long before "Monday Matters" became a permanent fixture in our school life. Perhaps with these sparks of ideas, students may be able to see The Flame take advantage of different platforms of media and evolve drastically in the near future.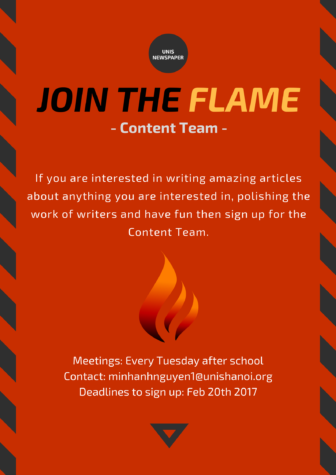 While these are some very far-off goals, we also have a straightforward task ahead of us: to become much more consistent with our publishing, and at the same time ensuring that the articles that are published are interesting, well-written and accurately reflects the voice of the students.
To potential writers, editors, and the next editors-in-chief – "Dream big. If you don't dream big, then, your dream won't be seen by other people, and so they won't be inspired. You have to be the first person to do something before other people follow you, or they won't because you won't be in front of them, you'll be next to them, and people can't follow someone who is next to them. Keep writing good articles, and keep making your voices heard, whether they be controversial or not, because UNIS students need to have our voices heard, and the Flame really is the best place for our legitimate concerns and opinions to be heard on a public, professional platform. It's also a good way to practice your writing skills, and a platform to try to make your school life just a bit brighter".
The Flame will be recruiting very soon – join us, and help us burn brighter.
View Comments (1)