APAC Band – An Insider's Look
Two weeks ago UNIS hosted APAC Band, with five other APAC schools arriving on Wednesday, practicing Thursday, Friday, and Saturday with a final concert performance on Saturday night. I was excited to get started Thursday morning – I was largely clueless about how all of it would play out (pun intended). You see, every conductor is different; each conductor has their own ideas and focus that they bring to the table. I was looking forward to working with this year's guest conductor, Mr. Mark Heidel, to see what he would bring to the table.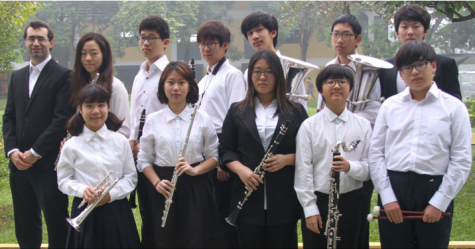 On Tuesday, I was gifted with an exclusive sneak peek of his conducting style during my Instrumental Music class. He was very detail oriented, and even within the few minutes in which he conducted us he managed to get us to improve our sound in that section of the piece which I thought was incredible (and I still do).
All of the APAC Band students got together as a group for the first time on Thursday morning. It was something quite special to hear so many instruments playing around you, which sounds worlds apart from our comparatively small UNIS Hanoi APAC Band group. In that first moment, I was introduced to one of the main things we would never stop working on for the entire three days, which was intonation, or in people-speak, making sure that when you play the same note as the person next to you they sound the same. This may sound ridiculous but it's surprisingly hard to accomplish.
We vigorously worked through Thursday, Friday and even Saturday morning, having practiced a total of (to my best estimation) around 25 hours in those three days. My lips were of course very sore, as were everyone else's, but we kept working on the songs and looking at the details and playing 4 bars at a time until we finally finished working on all of the songs. It's a very gratifying feeling to have put so much effort into something and see it tremendously improve. That is exactly how I felt and feel about APAC Band.
It all led up to the culminating performance – the 2016 APAC Band Concert. It was truly epic. We grew together as a band, and during the concert we played together, as a band. The music sounded fantastic, exactly how one would imagine it would sound. All the pieces sounded whole, and they all sounded like the things they were describing. Those little details, annoying as they were, made the songs, and after the hour-long concert, it was done.
The relief I felt at how awesome the concert went was only surpassed by the relief my lips felt to not have to play any more music for a while. All jokes aside, though, APAC Band was intense. If you didn't make it to the concert, talk to someone who did: You'll probably find that they enjoyed it. The APAC Band, at the very least, enjoyed it very much.
Leave a Comment