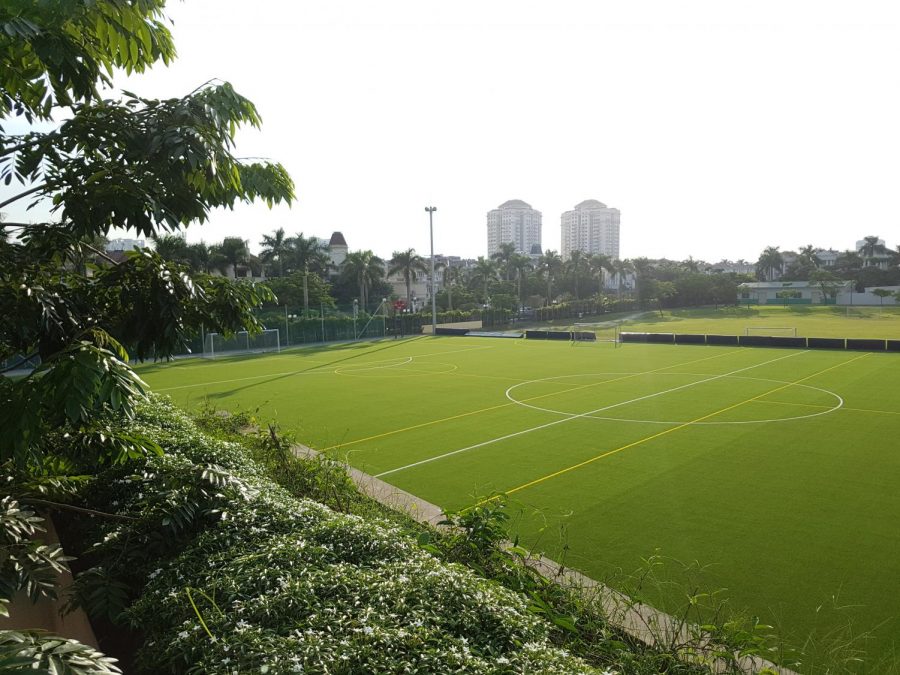 Ji Seok Han
At the start of 2018-19 school year, UNIS unveiled a new, state of the art football field. The field is conveniently located behind the canteen and is easily accessible for both the ES and MSHS.
"I think that the location of the pitch is perfect. When I'm on lunch break I can head to the pitch whenever I want," said a Grade 11 student Matias Belete.
"The new pitch looks really good and seems like a lot of fun to play on" said Flora Hamilton, a grade 11 student.
The field uses artificial grass and features a scoreboard as well as floodlights. These new additions will come in handy for the teams preparing for the football season.
"The field we used to play [last year] on was very uneven and the grass was not always well maintained. But the new field is severely lacking in traction. Artificial grass fields usually contain black bits that help provide traction" said Panyin Adu-Gyamfi, an APAC football team veteran.
The addition that Panyin suggested is commonly referred to as "rubber crumb" and is made from recycled rubber tyres. Thousands of these small bits cover the field to create a more realistic playing surface.
Preseason for both boys and girls football teams has already started and they are very eager to start training. The athletes are preparing for the upcoming APAC tournament in April, and with the new and improved space they're likely to make a lot of progress.
UNIS has experienced a lot of success at football. During the 2017-18 season, the boys APAC football team narrowly missed the finals after a nail-biting defeat during stoppage time. Additionally, two years prior, during a convincing run the boys team made it to the finals and placed second.  
In April, UNIS will be hosting six international schools from across Asia for APAC boys football. For many of our athletes, it will be their last chance at an APAC title. With the tournament hosted at home this year and with the addition of the new field, many of our athletes are determined to do well.
"I'm excited to start playing because I want to win. And I want to show the other schools that UNIS should not be underestimated," said Ji Seok Han, a Grade 11 student who played for the APAC football team last year.
Recently, the boys APAC volleyball team won UNIS' first ever championship. With such an amazing start to the year, the other APAC teams have high hopes. Hopefully a good football season is to come, which would be a testament to the outstanding quality of UNIS' new facilities.
Let's wish them all the best of luck during these upcoming months!