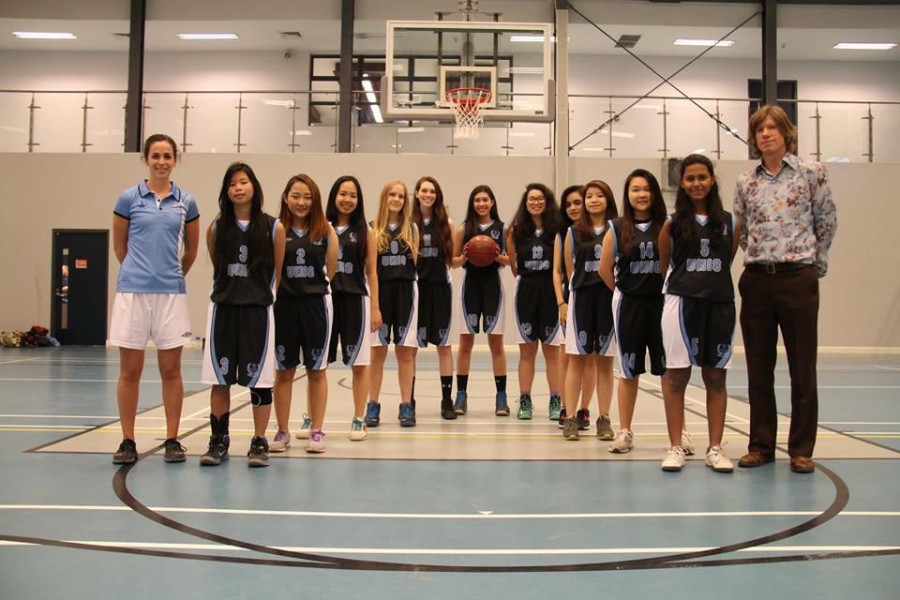 As most of us knew, APAC Basketball 2015 was just last week! To follow up, I thought it would be interesting to see what the coaches and the players (specifically the girls) thoughts were on the event itself and how the experience had influenced them.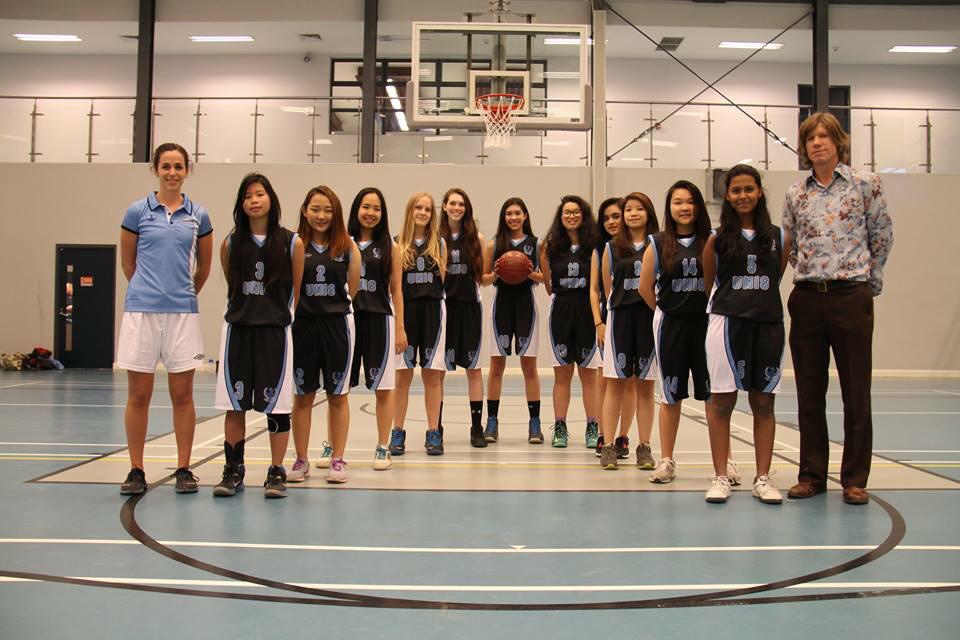 The Coaches thoughts:
Robert Hart – From my perspective, APAC was a huge success.  The Activities Department put on a fantastic event, the community came out to support it in a big way, and the athletes made me proud with their effort and attitudes.  I give APAC an A-PLUS! 🙂
Annie Carson – I was incredibly proud of the varsity girls at the APAC tournament this year. As we have with each contest this season, we improved with every game we played, and we grew into the level of competition at the tournament. The girls on the team demonstrated their heart, their courage, their coach-ability and their determination not to give up. In the final game, we played a team to whom we had previously lost. And rather than allowing that to affect their mentality, the girls rose to the level of competition and played to win. Each and every member of that team should be proud of their accomplishment, their heart and their spirt. Well done ladies!
The Questions I asked the players:
One thing you wish you knew before.
One thing you enjoyed.
One thing you wish was different.
One thing you learnt.
Your favourite Candy?
Players – Positions
Point Guard (1) – The team's best ball handler who directs the team's actions (The Leader)
Shooting Guard (2) – The team's best shooter (The Lancer)
Small Forward (3) – The team's most versatile player (The Smart)
Power Forward (4) – The team pusher (The Big)
Center (5) – The team's tallest and biggest player (The Big 2)
Ly Ann Foster – Point Guard (1) & Shooting Guard (2)
I wish that I had not twisted the Brent girl's ankle by defending too hard, because I was injured too and I know how it feels like to play while hurting, but also not being able to play at all.
I enjoyed missing classes (less homework) and hanging out with the rest of my team.
I wish that we could have better referees, because although some of there calls were good, there were a few that coaches from every team could agree weren't the best.
I learnt that being bigger or taller does not matter a whole lot in the sport of basketball, and that it's [about] how much heart you bring to a game that changes everything.
Gummy bears!
Ewa Lachman – Point Guard (1) & Shooting Guard (2) & Small Forward (3)
Although I had been to APACs before, I was still surprised to see how close a team can get in just one short weekend.
I loved playing basketball with my team mates, and I love the "chill out-rest" moments that we had between, before and after games. I also loved listening to the crowd cheering for us, so much can come from people yelling positive things at you.
I thought that the dinner could have been longer. That way, everyone could have had enough time to finish eating and finish with first APAC initiations as well. We would also have had more fun bonding time with the other schools.
Everyone was very friendly once I got to know them better. This proves that first impressions aren't always true, especially in APAC where people may seem quite intimidating.
I like Riesen candies, and ones that are chewy with caramel!
Saskia Brennen – Point Guard (1) & Shooting Guard (2) & Small Forward (3)
I wish I had known that all the effort I put into each practice was definitely going to pay off and show during the tournament.
I really enjoyed all the support that we got from the school and the community. I felt so grateful and excited at the same time that everyone spent time watching our games and hurt their vocal chords cheering for us.
I only have one wish and that was for it to be longer.
Considering that I got sick halfway through the tournament and that I had to leave, I think it taught me that even though this is something that I really wanted to do, I had to think from a neutral point of view, so objectively. What I learnt was that perspective can be crucial in situations like the one I experienced.
Reese's Peanut Butter Cups!
Celina Tsukamoto – Point Guard (1) & Shooting Guard (2) & Small Forward (3)
I think maybe a more detailed schedule – or maybe just because I didn't check it clearly -but I do remember that I kept having to ask people about the uniform colour that we had to wear to each game.
I enjoyed meeting new players from other schools and being able to watch them play. There were so many skillful players gathered in one place, that was really cool.
The fact that we had to pay for APAC even we were not traveling was quite annoying. Additionally, we didn't even get to keep our uniforms, which is different to the other schools' policy and that is quite sad, because we won't get to have mementos from this experience.
I learnt that by trying your best and enjoying the games helps a lot with playing. The UNIS APAC girl's teams don't always come in last and we proved it!
I don't really have any favorite candy, but I love anything that is matcha flavour!
Min Ji Kim – Shooting Guard (2) & Small Forward (3)
I wish I had known what lunch was for each day. It may seen arbitrary, but as an athlete, food is very important and its nice to know what the canteen is serving to know if I need to prepare anything instead.
I really enjoyed cheering for my team and encouraging them on while they were playing. I didn't think it could be so effective in helping my team out.
I felt like I was too short for the sport. Everyone else was so tall and since I had never been to APAC before, I didn't know what to expect, but they were all very tall that it made me feel ten times shorter.
I learnt how to cheer for my team and keep them energetic. Like I mentioned above, I never thought it was that important or would do anything at all, but after spending three days cheering my throat out, I saw the effect and it was quite amazing.
I don't mind?
Thi Nguyen – Shooting Guard (2) & Small Forward (3)
I wish I knew how good the other teams at APAC really were. It was quite a shock seeing them play for the first time, even though we were the first game, but I really didn't know how talented and skillful the other teams could be.
I really liked that I had a chance to meet new people and make new friends. It was fun to host people and my homestays and I got quite close.
Hopefully the banquet next year will have better food. I thought it was nice, but a wider selection would have been better.
I learnt through the time I spent together with my team and through the practices we had and from the coaches that an important part of improving is pushing ourselves and personally wanting to do better!
#3 from HKIS boys team!
Halan Olive – Shooting Guard (2) & Small Forward (3)
I wish I knew more about the game and the rules, and that I had focused more to the different styles of defenses and attacks.
I enjoyed the team dinners when we had bonding time.  Meeting new people during APAC was also a highlight for me, as it was exciting to see how each player had their own talent and skills in basketball.
I wish that I wasn't injured before or during APAC so that I could have had more learning experiences through playing, instead of having to miss out.
I learnt how to shoot properly and how to be a supportive team player. There were many things I didn't know about basketball before, so this was a great learning experience for me too.
Just about anything with chocolate, especially milk or dark chocolate!
Nina McLean – Power Forward (4) & Center (5)
I wish I knew how to braid my own hair so that I could come with a new and different hairstyle each day.
I loved the varsity girl's awesome dance parties that we had before each game. They would pump us up, get us excited and ready for each game.
It would have been more fun if we could play more games and if it had been a longer competition. It was so much fun! I also wish that there were more notices on what the canteen served on each day because chicken cutlet was on Saturday and sadly, I missed it.
I learnt how to stay calm and settle down when I was in a game where we were winning, since rushing and getting too excited can lead to mistakes that could have lost us the game.
Candy corn, Twix and MATCHA KIT KAT!
Kiana Freeman – Power Forward (4) & Center (5)
I wish I knew about the need for snacking, and that bringing a lot of snacks to an event like APAC is very important, because I was always hungry after playing.
I really enjoyed team bonding and getting to know new people, as well as meeting old friends.
I wish that APAC had been longer or that we were given more time to explore and meet people. I also thought that we could have had better referees.
I learned that no matter what place we come in or whatever happens, everyone is always going to be there for each other.
Too many to choose from, but Lindt Chocolate!
Surabhi Sundaram – Power Forward (4) & Center (5)
I actually did think there was anything I wish I had known before this experience. This could have been due to the fact that I had been to APAC before and understood how everything worked.
I thoroughly enjoyed the experience, especially making friends, the healthy competition and sportsmanship  exhibited by the athletes.
I had attended APAC Tennis prior to this experience, which was quite different. Some changes were fine, however, APAC would have been a more enjoyable experience if it had lasted longer and if we had had more free time during the tournament.
Discipline and independence were two qualities that I had developed further during this experience.
M&Ms!
Nhi Trinh – Small Forward (3) & Power Forward (4) & Center (5)
I wish I knew that I would do something stupid in the first game and injure myself so that I could prevent that from happening. I think I was just being careless and I guess this experience reminded me that anyone can get hurt.
I really enjoyed watching the other players. There were so many other athletes with amazing skills that I never thought was possible for high school level basketball. Everyone played with heart and also sportsmanship, which was great to see because its hard for everyone to have fun if not everyone plays fair.
Although I enjoyed the fruits we were given, maybe more and a wider variety would have been nicer, because what athlete doesn't like free food and snacks?
I learnt that skills and team bonding are both so very important, and that there are different ways to develop both. There are many ways of practicing and I had learnt this from my coaches, however, I never knew that practicing doesn't have to just be before a tournament, but would also be during. Additionally, team bonding and positivity are great ways to help a team improve.
I LOVE Mars Bars, Skittles and Twix!