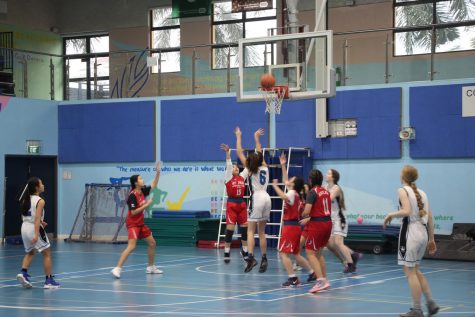 The third sports season will be starting at UNIS very soon. When the season returns, it's time for tournaments to settle into a new normal in the era of COVID-19. 
Since the return of the sports season, the UNIS community has been getting ready to cheer on their athletes. Basketball coach Tobin Jarman explained that sports returning is helping to motivate athletes. "They are performing at a higher level and training more intensively as now, there is a crowd of spirit that will cheer on the teams playing," Jarman said.
Games against other international schools are still on hold, but once they return, the sports season will be a blast and will allow for UNIS and other international schools to compete against one another. "I think everyone very much looks forward to the safe return of the APAC events," Jarman said.
Jarman emphasized the importance of student safety regarding COVID-19 protocols and social distancing regulations. "The safety of student athletes is the number one priority, so the MRISA and APAC organizers had to postpone the MRISA and APAC events," Jarman said.
The current regulations involve students watching the games through a livestream. "These changes were made because students could not watch the tournaments directly," Jarman said. "The only solution was the virtual live streaming feed of the event which allowed UNIS students to watch and cheer for school even without a direct view of the matches."
The return of the sports events will bring out some of the special moments that spectators of a match can only experience while watching a match directly. One of these is eating snacks and drinks at For example, it has a  huge influence on the snacks and drinks coming to the event as they purchase such snacks while joining the event. When the sports tournaments return this will be a huge blast for students especially, and the whole school will be excited to cheer for our teams.
This was a tough time for all – and especially for sports athletes who didn't have a chance to compete, but these opportunities will hopefully be returning very soon. The athletes are ready to perform. These events are a thrill and when the sports season is returning to near you, are you ready? So, let's wait and see what happens next.